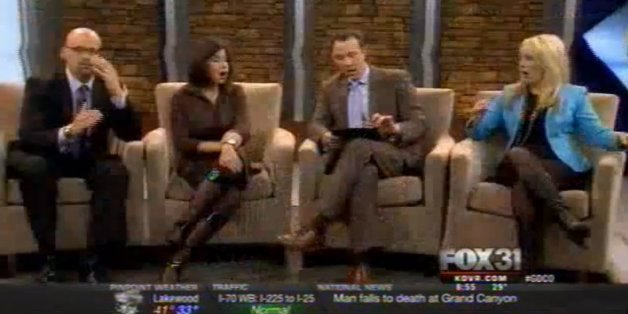 YouTube / KDVR
You will never see a man squirm more than this.
During live coverage of the fatal helicopter crash in Seattle on Tuesday, the host of the KDVR morning show in Denver scrolled through Twitter pictures on his iPad, supposedly to show images of the devastated scene.
However, rather than visuals of the downed aircraft appearing, the channel, an affiliate of Fox, broadcast something quite different… an image of a sizable penis perpendicular to a pair of 'open-fly' pantaloons.
Making the incident more bizarre, the NSFW picture appeared after a grab of Edward Scissorhands and an image of an uneaten omelette. The reaction from the co-hosts on the set is painful, as pointed out by @SladeHV on Twitter.
Better than earthquake reaction videos! Fox affil accidentally shows a penis https://t.co/ZkbSqHGOs3 (nsfw obvs) pic.twitter.com/cGnvd1VsjU

— Slade Sohmer (@SladeHV) March 18, 2014
"We are going to make a public statement," said Fox31 News Director Ed Kosowski to the Denver Post, adding: "We are not ready to comment about any potential action against employees. That's a personnel matter."
WARNING: The video below contains an NSFW image.
(Hat tip, Deadspin)