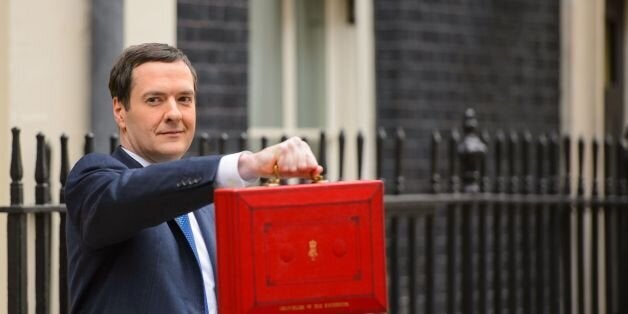 Here are the five things you need to know on Thursday 20 March 2014...
Did I miss it? Was it stuck inside the red box? Hiding under the despatch box? Yesterday, Westminster was awash with speculation that Osborne was going to pull a 'rabbit out of his hat' during his fifth Budget speech to parliament. Something spectacular. A vote-winning, jaw-dropping gesture or gimmick.
It didn't happen. The chancellor set out to woo the silver-haired brigade with some radical and eye-catching moves - but it didn't quite amount to a rabbit. As shadow chancellor Ed Balls later put it: "We were waiting for him to say the interesting thing and it never quite came out. I think, as John Cleese may have said, that rabbit is deceased, it is no more."
The "great granny giveaway", as some are calling it, makes the front of most newspapers. The Times reports:
"Pensioners will be able to cash in their retirement savings in the most radical overhaul of Britain's pensions industry for a century. George Osborne's decision to free older workers and pensioners from having to buy poor-value annuities was the surprise centrepiece of a Budget he said was for 'makers, doers and savers'. About a third of workers approaching retirement with the most common type of pension will use the new freedom to draw on their savings without having to pay punitive tax rates, according to the Government. Most will use at least some of the cash to pay off debts, it estimates, typically to clear their mortgages, help their children on to the housing ladder or add to their own investments."
"Cuts to beer, fuel and bingo levies were a nod to Tory MPs calling for more help to win back working-class voters... Mr Osborne presented the most upbeat economic forecasts since the financial crisis of 2007, including the biggest annual upward revision in growth figures for 30 years, but admitted that the recovery was still unbalanced and said that growth alone could not clear Britain's deficit... By 2019, government spending as a share of national income will be its lowest since 1948 under current plans."
Austerity? What austerity? The cuts continue well into the next parliament. Growth is up, but, overall, since 2010, it's less than half of what it was forecast to have been. And as for the pensioner announcement, this morning Osborne had to defend himself in a round of TV interviews after share prices in annuity firms, such as Legal and General and Aviva, plummeted. The chancellor told the BBC that for many: "Annuities have not been good value, they've not produced the kind of incomes that people hopes, and I want people to be trusted to make decisions about their future."
Is Grant Shapps a Labour sleeper inside CCHQ? The Tory chairman produces the kind of gaffes that could only, surely, must be, the result of a deliberate strategy. I mean, why o why, would any Tory tweet a poster like this in the hours after a not-bad Budget by Tory standards?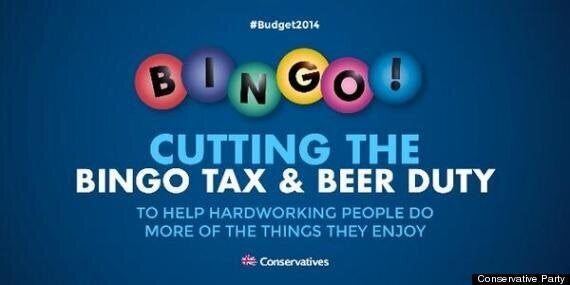 Really? I mean, really? "They" enjoy? Who? The hard-working plebs? Lib Dem chief secretary to the Treasury Danny Alexander, on Newsnight yesterday, spoke for most of us when he said the poster was "patronising", "demeaning" and that he had, like the rest of us, thought it "was a spoof at first".
Nope. It's real. It's proper proof of how out of touch senior Tories are. As Tory-supporting columnist Iain Martin tweeted:
"Attention CCHQ: You had a good budget day with pensions revolution + praising manufacturing and so on. Why ruin it with a beer + bingo ad?"
Recently, the HuffPost UK revealed that Grant Shapps may be demoted to immigration minister in the upcoming reshuffle in May. The PM may want to make that move sooner, rather than later.
3) THE WAR ON WELFARE, PART 172
If you're a bingo-playing, beer-drinking pensioner who can afford to save £15,000 (!) a year, you get quite a lot out of yesterday's Budget. If you're, in the words of the Mirror headline, "young, poor, jobless" you get "zero". In fact, you get money taken away from you. Again. Yesterday, the chancellor announced that he would be imposing an overall cap on welfare spending, at £119bn, but while it wouldn't include the state pension (the biggest driver of rising social security expenditure) or jobseekers' allowance, it would include housing benefit, tax credits and various disability benefits - all of which the poorest households, both in work and out of work, rely upon to get by. Labour plan to sign up to the overall cap on spending.
Yet, as my HuffPost colleague Asa Bennett spoke to leading economist Jonathan Portes who said: "Simply announcing an overall spending cap for a period that is after the next election, without announcing any cuts to specific benefits is smoke and mirrors. The real test comes when government, this or the next one, announces actual policy changes to deliver the cap."
BECAUSE YOU'VE READ THIS FAR...
Watch this 60-second video of my alternative, semi-serious take on yesterday's Budget, which includes my rather angry/impassioned defence of the current pound coin. #mehdisminute
"British forces are preparing to travel to Ukraine in July to join allies in a peacekeeping training exercise. The troops will be part of a group of about 1,300 troops, mostly American, who are taking part in Rapid Trident, a previously planned exercise. US officers cancelled a military exercise in Russia in the light of current events but confirmed the exercise in Ukraine would go ahead. British officials said they had yet to decide the UK's level of participation in Ukraine but confirmed planning for Rapid Trident 2014 in Lviv, near the Polish border, was ongoing. The US has already sent 12 warplanes and 300 personnel to Poland in the wake of Russia's takeover of Crimea. On Tuesday, vice president Joe Biden reassured Poland and the Baltic states that the US would protect them from any Russian aggression similar to what occurred in Crimea."
Sanctions, not military action, is still the preferred option for dealing with Putin's belligerence in Ukraine. The BBC reports: "European Union leaders are due to meet in Brussels to discuss further targeted sanctions in response to Russia's annexation of Crimea from Ukraine. It comes as UN chief Ban Ki-moon visits Russian leaders in Moscow to urge a diplomatic solution to the crisis."
5) CANNON TO THE RIGHT OF THEM
"Boris Johnson has announced he will endorse the use of a water cannon by the Metropolitan Police, prompting outcry from opponents that the Mayor used the day of the Budget to bury his approval of the bitterly controversial measure. The cannons will be used as an extreme measure to tackle violent disorder, like the rampages last seen in the 2011 London riots, the Mayor said. Facing a weight of opposition from civil liberties campaigners and many Assembly Members from his own party, Johnson has recommended Home Secretary Theresa May approve the use of a water cannon in 'limited circumstances'. Johnson said he had been convinced of the benefits, saying he had 'taken into account both the professional advice of the MPS that water cannon is a valuable tool, and the broad public backing for its use,' he wrote in a letter to the Home Office."
From the Sun/YouGov poll:
That would give Labour a majority of 58.
Tim Montgomerie, writing in the Times, says: "Osborne's Budget gives the Tories new hope."
Seumas Milne, writing in the Guardian, says: "George Osborne's record is a dismal failure even in his own terms."
Peter Oborne, writing in the Telegraph, says: "A triumph for Mr Osborne, and a triumph for the Coalition, too."
Got something you want to share? Please send any stories/tips/quotes/pix/plugs/gossip to Mehdi Hasan (mehdi.hasan@huffingtonpost.com) or Ned Simons (ned.simons@huffingtonpost.com). You can also follow us on Twitter: @mehdirhasan, @nedsimons and @huffpostukpol
Popular in the Community