It's nearly 20 years years since his untimely death at the San Marino Grand Prix but Ayrton Senna is still very much in the public consciousness - and today he would have turned 54.
His all-too-brief-F1 rival Michael Schumacher's recent skiing accident has shown how we cannot take anything for granted and Senna's death at Imola was a stark reminder of the dangers of racing. It is a blessing that there have been no other fatalities in F1 since 1 May 1994 although other areas of motorsport have not been so fortunate.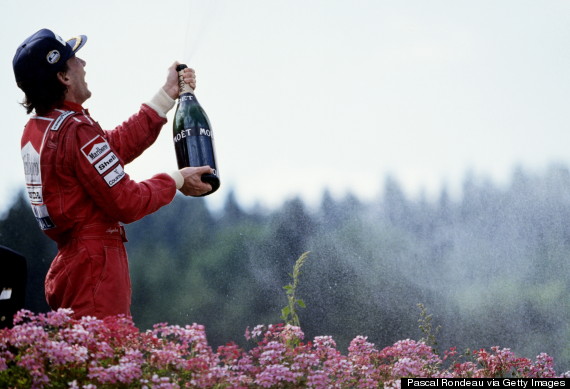 Ayrton Senna celebrates after the 1991 Belgian Grand Prix
Recently, the Brazilian's life was celebrated in a photographic exhibition at the Proud Galleries in London, with a number of previously unpublished images while the Williams Martini Racing F1 team announced they would be commemorating their former driver with special logos on their cars this season.
That follows the critically acclaimed 2011 film 'Senna' that brought the legend of the Brazilian to a new generation of F1 fans. Twenty years on from his death and his legacy lives on.
HuffPost celebrates Senna's birthday with a selection of images below.