Kanye West has finally got his wish - his fiancée Kim Kardashian is on the cover of April's Vogue.
Kim appears on the cover of the magazine in bridal attire, with Kanye making an appearance alongside her.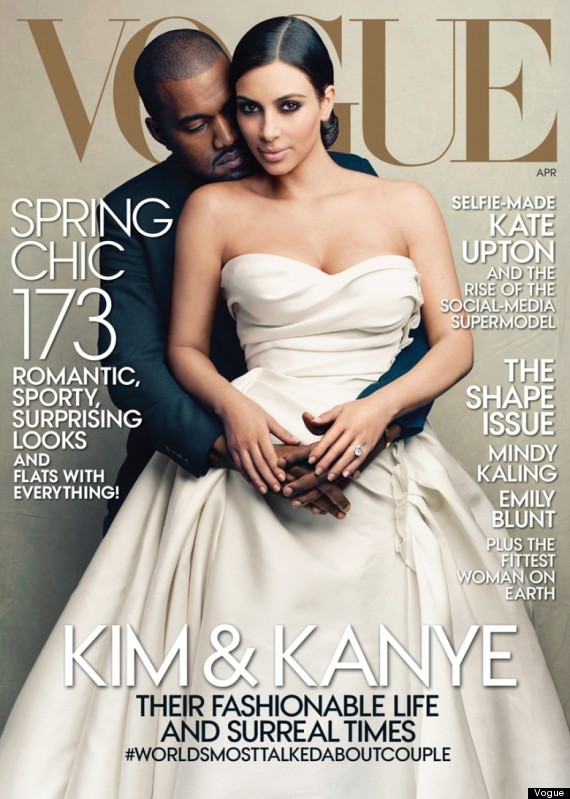 Kim Kardashian and Kanye West on the cover of Vogue
The two were photographed by celebrated photographer Annie Leibovitz, who in the past has taken iconic pictures of Demi Moore, Miley Cyrus and the cast of Les Misérables.
The cover is also unique in that it features a hashtag - #worldsmosttalkedaboutcouple.
Fashion-conscious Kanye has expressed his frustration that Kim hasn't been on the cover of Vogue in the past, telling Ryan Seacrest last year: "There is no way Kim Kardashian shouldn't be on the cover of Vogue. She is the most intriguing woman right now."
He also reportedly confronted editor Anna Wintour after 'Girls' creator Lena Dunham was chosen as a cover star rather than Kim.
A source told Radar Online at the time: "To Kanye, it's insulting that his friend Anna is still refusing to even consider putting Kim on the cover of Vogue."
Well he can finally rest easy as Kim has finally made the cover - and doesn't she look great?
LIKE US ON FACEBOOK | FOLLOW US ON TWITTER