Australian Prime Minister Tony Abbott is facing an embarrassing climbdown, admitting it may have been premature to identify debris on satellite images as from the missing flight MH370.
Responding to a question from a journalist on whether he had "jumped the gun", the prime minister said he felt he owed it to the families to keep them informed of everything.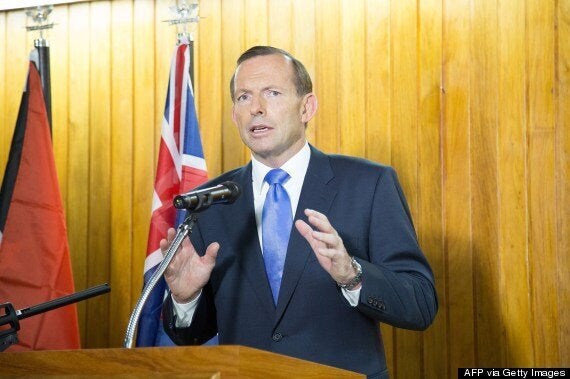 Tony Abbott speaks at a joint press conference in Papua New Guinea about the missing flight
"But we owe it to the family and friends and loved ones of those people on the missing flight MH370 to resolve what is what is as yet an extraordinary riddle."
"It's about the most inaccessible spot that you can imagine on the face of the Earth, but if there is anything down there, we will find it," Abbott said.
Australia's deputy prime minister said on Friday that the suspected debris may have sunk.
"Something that was floating on the sea that long ago may no longer be floating," Deputy Prime Minister Warren Truss told reporters. "It may have slipped to the bottom."
"Noting that we got no radar detections yesterday, we have replanned the search to be visual," John Young, manager of the Australian Maritime Safety Authority's emergency response division said.
"So the aircraft flying relatively low, very highly trained and skilled observers looking out of the aircraft windows, and looking to see objects."
The UK has sent HMS Echo, an ocean surveying vessel, to the scene to aid the search in the southern Indian Ocean.
The plane, which has been missing for almost two weeks, was carrying 239 passengers. Last week, Malaysia said it believed the plane was deliberately sabotaged or hijacked.