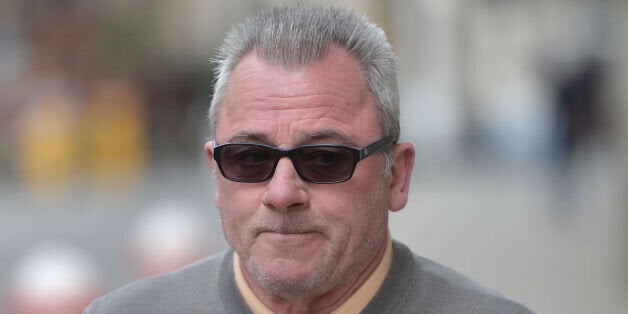 Football star John Terry's father has been cleared of a racist attack on an Asian man..
Ted Terry, 59, was accused of calling railway customer services worker Amarjit Talafair a "f****** Paki" before headbutting him outside a City of London pub on 22 March last year.
A jury of seven men and five women took an hour and 20 minutes to find him not guilty at the Old Bailey of one count of racially-aggravated common assault after a five-day trial.
Terry, of Lennox Close in Grays, Essex, was also cleared of one count of racially-aggravated fear or provocation of violence.
Terry's colleagues, former schoolboy boxing champion Stephen Niland, 36, of Quarles Park Road in Romford, Essex, and Moldova-born Tudor Musteata, 47, of Tarves Way in Greenwich, south east London, were also found not guilty of racially-aggravated fear or provocation of violence.
Outside court, Terry said he was "relieved".
He said: "It's been a hard year for all of us. We all felt it was nothing, really. It was stupid."
Niland was in tears as he left the dock and Terry also appeared wet around the eyes as he spoke of his relief at the verdicts with reporters.
"I just feel relieved really, it's been a hard year for all of us," Terry said.
Later he said: "I'm just going home and I'm going to phone John up."
Outside the court building the defendants hugged each other and family members.
Defence barristers argued that the prosecution's witnesses all knew each other and had conspired together to back up the racist abuse claims.
Mr Talafair said that he had suffered no injury from Terry's alleged headbutt because he was able to get out of the way in time and admitted calling the defendant a "fat bald prick" during the stand-off.
The complainant reported the incident to police the following day after researching Terry online.
He asked officers about taking his story to the press, but was told it would hamper the investigation, the court heard.
The confrontation started after a dispute over a cigarette outside the Windsor pub near Fenchurch Street station.
Both Terry and Mr Talafair's groups had been drinking in the pub to celebrate birthdays, the court heard.
Terry admitted having seven or eight pints of beer, while Mr Talafair drunk around six single Jack Daniel's with coke.
Giving evidence, Terry admitted putting his face against Mr Talafair's and calling him a "f***** tight prick", but denied headbutting him or saying "f****** Paki, let's have it right here and now".
The father of two and grandfather of six told the jury: "I just said 'f*** off, go back downstairs', things like that. It wasn't no racist stuff."
Terry also denied calling station cleaner Bakeba Mansuila a "black c***" as the group made their way towards the station - although no charges were brought over that incident.
The jury of seven men and five women heard that the Chelsea captain's father received a 24-month conditional discharge for common assault in 2005 and a suspended prison sentence for an offence of supplying class A drugs in 2010.
Two months after being arrested for racially aggravated assault in March last year, Terry admitted racially abusing another man.
He was fined £200 for saying ""f****** Irish prick" during a bust up at Barking rail station, the court heard.