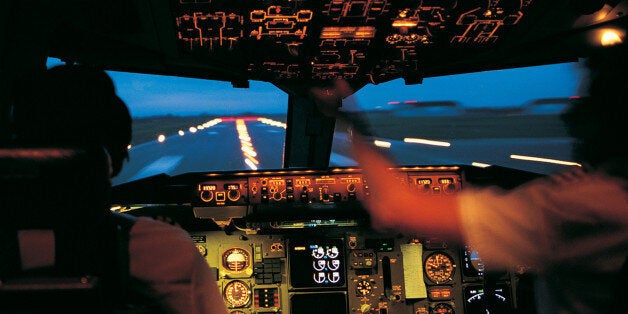 Two weeks after Malaysia Airlines flight MH370 went missing, experts continue to pore over every detail that might explain its disappearance.
Sadly for families of the missing 239 passengers, the conversation contains few clues as to what diverted the aircraft from its intended flight path from Kuala Lumpur to Beijing on March 8. Or why the communication systems were manually disabled 41 minutes after take-off. Chinese woman writes "Yuan Yuan, all your relatives are waiting for you to come home soon, return safely" in a room reserved for relatives of missing Chinese passengers at a hotel in Beijing, China
The final words spoken came from Fariq Abdul Hamid, 27, the co-pilot: "All right, good night." reports the Telegraph.
Experts have characterised the conversation between the pilots and control tower from its taxi on the runway to the final message as "perfectly routine".
Just two features suggest anything out of the ordinary was happening in the cockpit.
A message from the crew regarding the plane's height of 35,000ft was repeated unnecessarily, and the plane lost communications during the handover from air traffic controllers in Kuala Lumpur to those in Ho Chi Minh City.
"If I was going to steal the aeroplane, that would be the point I would do it," said Stephen Buzdygan, a former British Airways pilot who flew 777s, told The Telegraph.
Last week, Malaysia said it believed the plane was deliberately sabotaged or hijacked.
The Australian Maritime Safety Authority has stated that the search will continue today, with six aircrafts participating in the mission, including "three RAAF P3 Orion aircraft, a New Zealand P3 RAAF Orion aircraft and two ultra long range commercial jets."
Naval ships from China, Britain and Australia are also heading to the scene where large two objects were spotted on satellite pictures earlier this week. Australian Maritime Safety Authority (AMSA) graphic shows search area in the southern Indian Ocean
Early hopes that these two floating pieces of debris could be associated with the missing aeroplane have begun to fade as search teams fail to locate any evidence of plane wreckage.
According to CNN, Malaysia has asked the United States to supply undersea surveillance equipment to aid the search.
"Something that was floating on the sea that long ago may no longer be floating," Deputy Prime Minister Warren Truss told reporters. "It may have slipped to the bottom."
The UK has sent HMS Echo, an ocean surveying vessel, to the scene to aid the search in the southern Indian Ocean.
Related