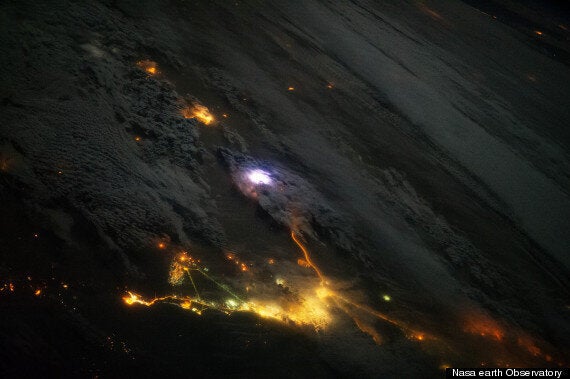 See below for an annotated version
The bright, sprawling city you can see just to the right of the centre of the photo is Kuwait City which covers 200 square km and has a population of 2.38 million people.
Yet the lightning strike is comparable in size and far, far brighter.
Across the atmosphere of Earth, lightning flashes about 50 times per second. That's 4.3 million times a day and roughly 1.5 billion times a year. Using a new instrument on the International Space Station (ISS), scientists are trying to observe and dissect at least a few of those lightning bolts every day.
Installed on the ISS in August 2013, the Firestation instrument includes photometers to measure lightning flashes, radio antennas to measure the static (a proxy for the strength of the electrical discharge), and a gamma-ray electron detector. Firestation is observing about 50 lightning strokes per day and looking for brief bursts of gamma rays that are emitted by some of them.
Gamma radiation is usually associated with exploding stars or nuclear fusion, but scientists have found evidence that terrestrial gamma-ray flashes (TGFs) may occur in the atmosphere as often as 500 times a day. Atmospheric scientists are interested in the processes that trigger lightning within thunderstorms and what kinds of lightning produce gamma rays. TGFs may also be related to the atmospheric phenomena known as red sprites, electrical discharges that extend upward from thunderstorms.
Doug Rowland, the principal investigator for Firestation and a space physicist at NASA's Goddard Space Flight Center, said: "The fact that TGFs exist at all is amazing.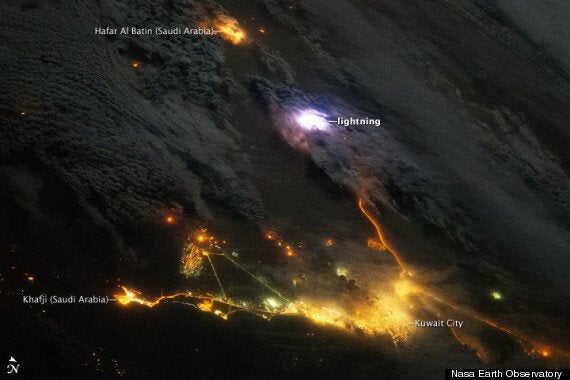 "The electron and gamma-ray energies in TGFs are usually the domain of nuclear explosions, solar flares, and supernovas.
"What a surprise to find them shooting out of the cold upper atmosphere of our own planet."
Popular in the Community