The first trailer for TV series 'Fargo' has dropped, revealing Martin Freeman in full American mode, and pretty bruised and battered too.
The star of 'Sherlock' and 'The Hobbit' plays Lester Nygaard, "an insurance salesman who has seen better days, in the TV series created by FX, based on the 1996 Coen Brothers' film.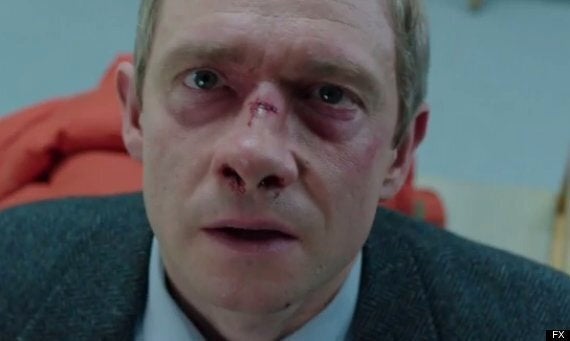 Martin Freeman plays Lester Nygaard in the TV series based on the film
Henpecked by his wife, his life is changed forever when a mysterious stranger comes to town." William H. Macy played the role in the film, which earned him an Oscar nomination.
This mysterious stranger is named Lorne Malvo, and will be played by Billy Bob Thornton. Malvo is described by FX as a rootless, manipulative man who meets a small town insurance salesman and sets him on a path of destruction.
The 10-episode miniseries will reportedly follow an all-new "true crime" story, "with a new case and characters all seeped in the humor, murder and 'Minnesota nice' of the original."
The project is being penned by Noah Hawley ("The Unusuals"), with Joel and Ethan Coen among its executive producers.
The series will premiere in the US on 15 April.
Popular in the Community