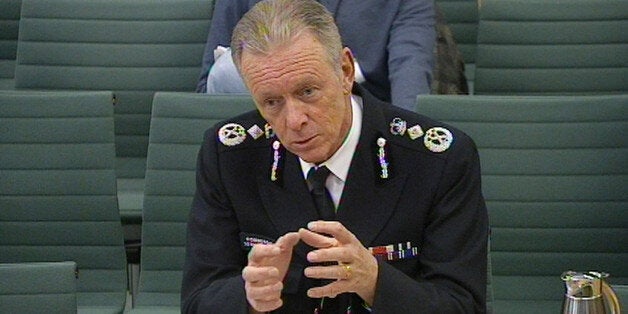 Scotland Yard has been accused of failing to act upon death threats made against the mother of murdered teenager Stephen Lawrence, it has been claimed. Baroness Doreen Lawrence was told about the threats at a recent meeting with Metropolitan Police Commissioner Sir Bernard Hogan-Howe but nothing further has happened, the Home Affairs Select Committee heard.
At the end of a heated session with the police chief, in which it was announced a parliamentary inquiry is to be established into the Metropolitan Police and its structure, governance and culture, Committee chair Keith Vaz MP said: "I spoke to Baroness Lawrence, she said she had a meeting with you, in which it was put to her that you had evidence of people making death threats against her.
"This was done in the presence of a solicitor, yet nothing has happened as far as she can see with regards to anyone coming back to her to tell us about this very serious issue." Sir Bernard replied: "As to the point about Baroness Lawrence I will look into it immediately."
Sir Bernard came under considerable pressure from the group of MPs over claims exposed by the Stephen Lawrence review that police officers shredded "possibly thousands" of anti-corruption files. The Met chief admitted he had not contacted his predecessors over the claims and revealed he had not asked to see a memo that reportedly summarises contents of the now-destroyed files, which contain evidence of wholesale criminal behaviour by trusted police officers.
Vaz told the police chief he had failed to reassure the committee that the force was taking appropriate action to investigate the destruction of the files. Revelations the files, gathered under Operation Othona, were destroyed came in Mark Ellison QC's review of the Stephen Lawrence investigation.
Vaz asked Sir Bernard if he had seen a 2012 memo written by Detective Superintendent David Hurley, uncovered by Mr Ellison, that summarises the destroyed files. The memo reportedly reveals officers stole and trafficked illegal drugs, shared reward payouts with informants, sold confidential police intelligence to criminals and fabricated applications for more rewards and accepted bribes to destroy and fabricate evidence.
Vaz said: "Could I ask have you seen the memo written by DI Hurley?" To which, the police chief replied: "I haven't." He added: "I can't give you a list of who has seen it." Sir Bernard admitted he had not asked to see it. Vaz said: "Sir Bernard, normally I find you very reassuring, I'm afraid I don't think we're reassured at the moment." Lawrence had complained to the Met Police about death threats
Earlier, the committee chair asked why the Met chief had not written to previous commissioners to find out who authorised the destruction of the files, which is thought to have happened between 2001 and 2003. Vaz said: "Here we're talking about a mass shredding of documents, a report set up by the Home Secretary, we're talking about the chaotic state of the force's records, setting up a public inquiry - wouldn't you feel the reputation of your organisation demands you write a letter to your predecessors to find out who has authorised it?"
Sir Bernard said: "I'd like to reassure you, if there's a need to contact my predecessors we will, if I'm the right person to do it, I will." Ellison's report, published earlier this month, also found that an undercover police officer was working within the ''Lawrence family camp'' in the late 90s as evidence was being taken for the judicial inquiry led by Sir William Macpherson into Stephen's death.
Mr Lawrence, 18, a would-be architect, was stabbed to death by a group of up to six white youths, in an unprovoked racist attack as he waited at a bus stop in Eltham, south east London, with a friend on April 22 1993. It took more than 18 years to bring two of his killers to justice. In the wake of the Ellison Review's publication, Commander Richard Walton was temporarily removed from his post as head of the Met's counter-terrorism command SO15 over his links to the undercover operations.
An undercover officer - known as N81 - held a meeting in 1998 with Mr Walton, who was then an acting detective inspector working on Scotland Yard's Lawrence review team, responsible for making submissions to the Macpherson Inquiry. Feedback from N81 touched on personal details concerning the Lawrence family, such as comments on the separation of Mr Lawrence's mother and father, Doreen and Neville.
N81 and Mr Walton's meeting was described as a ''fascinating and valuable exchange of information'' in police notes. In addition, Mr Ellison found there is evidence to suspect one of the detectives on the original Stephen Lawrence murder investigation - Detective Sergeant John Davidson - acted corruptly.
It was claimed that he had links to Clifford Norris, the gangland boss father of David Norris, one of the two men who were finally convicted in 2012 of the teenager's racist murder. Home Secretary Theresa May announced a judge-led public inquiry will be launched into the work of covert police and Scotland Yard's Special Demonstration Squad (SDS) - the top secret undercover policing unit that was up and running for nearly 40 years.
It is claimed that Davidson had links to the failed investigation into the death of private investigator Daniel Morgan, who was murdered with an axe outside the Golden Lion pub in Sydenham, south east London in 1987. Sir Bernard suggested that a new investigation could be opened into his death, one of the force's longest unsolved murder cases. He said: "I'm considering now how we might re-establish the investigation and prosecution of the people who killed Daniel Morgan, or the person who killed Daniel Morgan...because the disgrace at the end of the day is that a murderer got away with it."