 Britons' pay packets are being eaten away less by inflation as official figures showed that the inflation rate under the Consumer Price Index fell to 1.7% in February, its lowest level since October 2009.
However, the Office for National Statistics warned that "people will still be feeling the pressure", as prices continue to rise faster than earnings, with the average pay growth at just 1.4% according to the statistics body's rolling-three month average.
Lower petrol prices helped inflation fall to a new four-year low, marking the fifth monthly slowdown in a row and will support hopes that the real-term decline in pay is coming to an end - with private sector earnings already appearing to have caught up.
The rate of inflation under the Retail Price Index (RPI), which includes housing costs, fell to 2.7%, the ONS said.
David Cameron welcomed the figures, writing on Twitter: "It's good to see inflation falling again. Our #LongTermEconomicPlan is helping provide stability and security #ForHardworkingPeople."
Labour's shadow Treasury minister Catherine McKinnell said: "This fall in the inflation rate is welcome, but the squeeze continues as prices are still rising faster than wages. Working people facing this cost-of-living crisis are on average £1,600 a year worse off since David Cameron came to office."
The latest inflation figure was partly driven down by a fall in petrol prices of 0.8p per litre between January and February this year, compared with a 4p rise for the same period in 2013.
Meanwhile, energy bills saw a combination of prices and cuts, compared with an overall rise for the same period in 2013.
Inflation in food and non-alcoholic drinks fell to a near four-year low of 1.8%, the lowest since May 2010 when it was the same. It was last lower in February 2010.
Howard Archer, chief UK and European economist at IHS Global Insight, said the fall in CPI inflation "eases the squeeze on consumers' purchasing power, which is helpful to growth".
"Consumer price inflation is likely to remain modestly below 2.0% for the next few months, and we expect to then largely hover around 2.0% further our this year. The overall increase in electricity and gas prices will now be less than occurred a year ago, due to the government easing some of the green burdens on the "Big Six" energy companies."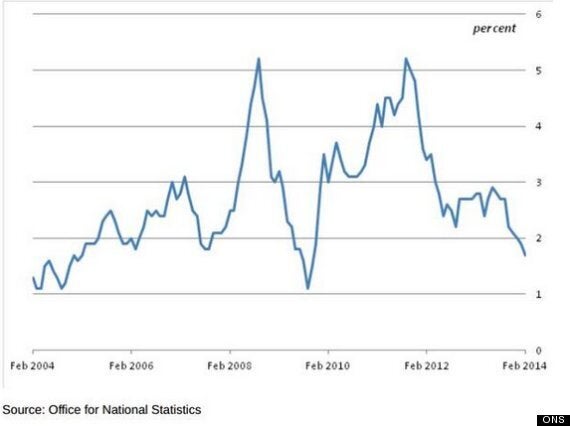 UK inflation rate, as charted by the ONS.
Meanwhile, UK house prices have increased by 6.8% in January 2014 compared with a year earlier, with the average house price now standing at £264,000 in England, £166,000 in Wales, £132,000 in Northern Ireland and £183,000 in Scotland.
Related