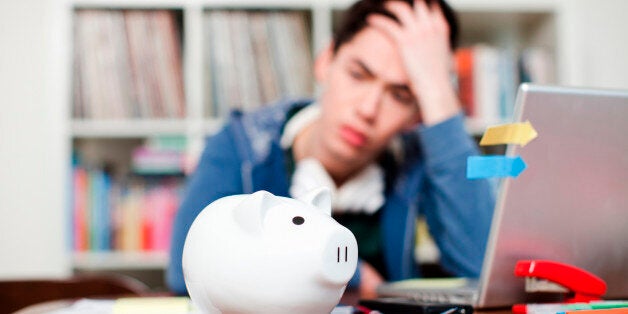 Rent, council tax and utility bill arrears often have just as damaging an impact on people as payday loans, according to a new 'harm index' designed to reveal the depth of the stress and anguish caused by debt.
Think-tank Demos, which compiled the figures, is pressing for a traffic light rating system, similar to those shown on food packaging to enable people to weigh up how good a meal is for their health, to be placed on all debt adverts and financial product descriptions.
This information could include, for example, the proportion of borrowers who default on or roll over their original loan, the average amount repaid per £100 borrowed and the risks of not repaying, according to its report, titled The Borrowers.
The think-tank's analysis also estimates that Britons are sitting on around a £5 billion "black hole" of hidden debt, or almost £200 per household, made up of unpaid rent and council tax and overdue gas and electricity bills, which is not included in formal figures.
It said these arrears, which have a "high impact" for consumers, are being ignored in official data.
Blogging on the Huffington Post UK, Demos researcher Jo Salter wrote: "Debt is only as bad as the harm that it causes, which is why the Demos report out today has created a 'Harm Index' measuring the impact of debt. It suggests ways that debt support should be tailored to the individual struggles individuals face, and also argues that lenders who cause the most harm face stronger penalties."
The report said many people it interviewed said the burden of debt had left their emotional well-being "in tatters" and their problems will not necessarily be solved just by rearranging their finances.
The harm index was compiled by asking people to rate the negative impact of each of their debts, on factors including the damage they did to mental well-being, the legal and social consequences, the risk of ending up with multiple debts, how affordable the debt was and debt collection methods.
Each type of debt received an overall score out of 100. Illegal loans were ranked as causing the worst harm, with a score of 91, although this was based on a relatively small sample size of around 10 people.
They were followed by payday loans with a score of 68, council tax arrears which scored 62, rent arrears at 61, utility bills at 57 and upaid fines at 54.
The report said that while payday lenders are "often considered to be the archetypal problem debt", people are actually affected in a very similar way when they fall behind with their rent, council tax and utility bills.
At the other end of the scale, student loans were deemed the least harmful, scoring 17 out of 100, followed by store cards at 20 and mortgages at 23.
The survey was carried out among around 2,000 adults representative of the population as a whole.
When the same questions were asked of people in smaller focus groups who were getting debt advice for "unmanageable" loans, store card debts were found to have the worst effects, with payday loans having less of a negative impact than mortgages, utility bills and credit card debt.
The report said this suggests that the negative impact of store card debt can vary widely from being very low if you pay off your balance, which is likely to be the experience of people in the wider survey, to very high if you miss payments, which is likely to be the experience of those in the focus groups.
The whole of the consumer credit market will come under the control of the Financial Conduct Authority (FCA) from next Tuesday, and the regulator has already revealed plans to toughen up on payday lenders and debt management firms.
The FCA charges levies to firms to fund money advice. Demos argues that the regulator should adopt a "polluter pays" model to calculating how much firms should are charged, meaning those firms which cause the most consumer harm should pay the most.
It suggested this could prompt some firms to improve the way they treat consumers. An index like the one used for the report could be the basis for this.
Jo Salter, author of the report, said: "It is only fair that lenders whose practices cause the most harm to individuals should either contribute the most to funding debt advice or take steps to minimise their negative impacts.
"There's a £5 billion black hole in official debt statistics and our research shows just how arrears on rent, council tax and utility bills often have just as big a negative impact on people as payday lending."
Around nine in 10 (88%) adults in the population generally were found to be in some form of debt and the most common reasons for borrowing money were for a one-off purchase or an unexpected event.
However, the report said "worryingly" almost one quarter (23%) of people had dug themselves into debt to cover everyday living costs such as food, heating and clothing.