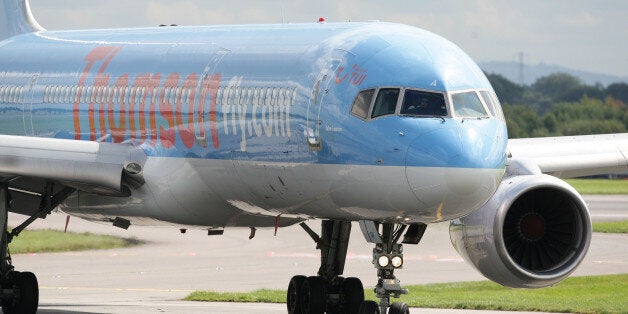 A woman has been jailed after admitting to being drunk and abusive on an aircraft.
Marsha Woodwart had to be physically restrained by cabin crew on the Thomson Airways flight from Crete to Birmingham International Airport last July.
Birmingham Crown Court heard the 41-year-old, from Cheltenham, boarded the Boeing 757 at Heraklion Airport on July 19.
Around 30 minutes into the flight, the cabin crew were made aware of a passenger who had been in the toilet cubicle for a period of time, the Crown Prosecution Service said.
Fearing for the woman's health, the crew attempted to help the passenger but she became verbally abuse towards them.
Having removed the door to the cubicle after seeing smoke, they found Woodwart on the floor with a litre bottle of vodka and a cigarette.
The crew were forced to restrain her as she continued to be verbally abusive towards them and other passengers.
The passenger was arrested by police on arrival at Birmingham International Airport.
At Birmingham Crown Court yesterday, Woodwart was sentenced to 10 months in prison after pleading guilty at an earlier hearing to being drunk on an aircraft.
Following the sentencing, Suzanne Llewellyn, head of West Midlands Crown Prosecution Service's Crown Court Unit, said: "Marsha Woodwart's behaviour on a passenger flight was not only illegal and dangerous, but it must have been extremely distressing to her fellow passengers, which would have included young children.
"Before you board your flight and once you have entered the aircraft, all passengers are reminded that it is strictly prohibited to smoke on the airplane.
"Woodwart ignored these instructions, locked herself in the toilet, began to smoke a cigarette and consume alcohol from a bottle which she had purchased from duty free.
"In her inebriated state, she refused to exit the toilet which resulted in the cabin crew having to remove her and, due to her aggressive behaviour, restrain her.
"Even when she was restrained, she continued to lash out at the crew and she became racially abusive towards some of her fellow passengers.
"We hope this prosecution sends out a clear message that this type of behaviour on passenger flights will not be tolerated. Those who commit such offences and put an aircraft and its passengers in danger will be robustly prosecuted."