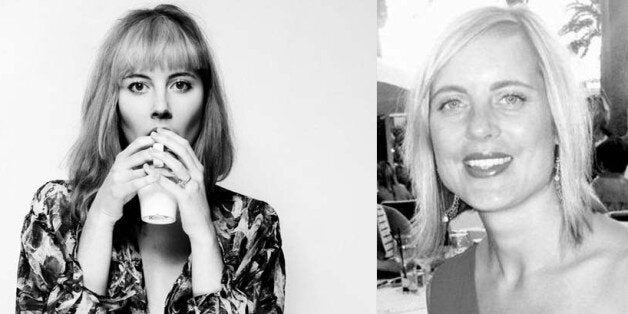 The holy grail of the bra has to be, cup size. Too much? Never enough? How do we honestly feel about the size of our wonderfully varied chests? Do you aspire to a Marilyn-esque eruption of curves? Or does your heaving chest see you day dreaming of being bra free and elegantly light with only the fabric of your clothes to cover you?
I decided to speak to two of my girlfriends; both with varying cup sizes, and find out exactly how they feel about their prize jewels, boobs, and 'team on front'.
Paula Goldstein di Principe
Is the creative director and founder of Voyage D'etudes - an online destination for all kinds of wonderment as we travel across the globe sharing tales.
Is the founder of the awarding winning Zest For Taste online shop and store, which sells homeware and flavours from around world.
Right ladies, let's get down to it, I need your vital statics - your bra size is?
When did first become aware that you had something 'happening' up front?
PAULA: I think I was probably about 13, my own breasts were never really anything to write home about but I grew up in Essex where cleavage was everything. It was an absolute obsession for everyone at school to have a page 3 worthy cleavage.
KATHARINE: Well, I was a ridiculously skinny teen and subsequently completely flat chested - the boys at school would tease me and say 'you're so flat the walls are jealous,'. I was a late developer; my boobs suddenly appeared when I was 18. Like Boom! Something's going on? I remember that feeling….
Do you remember your first bra?
KATHARINE: Oh yes - it was a cross between a bra and a shaped vest top from good old C&A. There wasn't really much to fill it but I still felt grown up.
PAULA: I vaguely remember mine - I think I was around 11 and it wasn't really a bra either, just a crop top shaped to feel that way. I felt very grown up too and it was exciting to have one of my own.
So both of you were pretty small in the cup as teens, but are you happy with the size of your breasts now?
PAULA: Totally! After my teens in which I wished them bigger and god-forbid yearned for a boob job.
Yes - way, but I now adore the size of my breasts they are never in the way, I don't really even think about them. In all honestly working for Purple [magazine], which celebrates natural nudity, has helped me understand my own womanhood, as well as being a wife to a positive man. I actually recommend anyone watch the Helmut Newton documentary which was shot by his wife - you will see how he celebrates form and stature we all have that! Just pull your shoulders back and chin up.
KATHARINE: I am totally happy too - no boob jobs here.
Favourite cleavage moment?
KATHARINE: My boobs are very well behaved in a good bra and look particularly great when I wear a body-con dress.
PAULA: When I was 15 and my best friend from schools 'chicken fillet' cleavage enhancers floated out of her bikini and past the boys we were trying to impress at the local pool - since then I always wondered if implants would act as buoyancy aids.
Do you ever get 'boob envy'?
KATHARINE: No, I know mine aren't as perky as they used to be but I also accept I am not 21 anymore.
PAULA: My friend Emma has one of those impossible figures size 8 with double DD's so I'm always wondering what she did in a past life to come out so great this time! But in all seriousness my envy has almost evaporated with age and I have modeled artfully without a top as my husband is a photographer and women have come and commended me on my breasts so seems the grass is always greener.
I've seen those photos Paula - glorious.
And who would be your 'boob' icon?
KATHARINE: Marilyn Monroe, I have been a fan for as long as I can remember. I just love curvaceous women who seem to pour themselves into clothes, so, so sexy.
PAULA: I would actually have to say my boob icon is Angelina Jolie. What she did to protect her health as woman known for her looks and then be so open about it is a great inspiration for women going through the trauma of mastectomy - so she is true icon.
Paula, you work within the fashion industry - do you think varying breast sizes are promoted positively in fashion & media?
It's strange really as I came from a teenage world where women HAD to have big breasts or they weren't women and I did feel a lot of pressure from the media at say 15, however I think it was mostly men's media reflected back on to me. I now work in the world of high fashion and I am aware of my weight but it's my bum that's an area of concern not my breasts, in a way for all it's issues I think fashion is pretty good on the breast debate from Freja Beha Erichsen who is so slight to the amazing pair that belong to Lara Stone. I work with a lot of naked photography and breasts no matter what size are always the best bit. Freja and Lara are my absolute two favourite models of today - I love all body shapes in fashion.
Your thoughts on the media Katharine?
I think the media have definitely improved, and there's a more realistic approach. Big boobs were only ever seen on page 3, and real big boobs were certainly not fashionable. It's great that we now get to see women in all shapes and sizes.
The media seems to say 'slim is successful' but you think 'big breasts' are an outdated cliché in terms of sex appeal?
PAULA: The whole weight debate is complicated - growing up I was too skinny and yet it's true I now feel pressure to watch my weight a little though - I still eat cake for breakfast! I think the media is moving in good direction actually towards fit is successful and being healthy.
I know many women with big breasts in a position of power and many very slim girls especially young beautiful models with very little power at all. Your shape doesn't equal your success.
And finally - 'My breasts are…'
KATHARINE: A nice size for my frame, well behaved in a bra and good for my age.
PAULA: Just right for me.
So there we have it, two ladies with totally different breast sizes loving what nature has bestowed upon them. There is a perfect breast size? I say, the one you have. Every woman has her own allure, and we all know that nothing is more attractive than self-confidence and be comfortable in your own skin.
A or double F cup - chests out and heads tall ladies! X