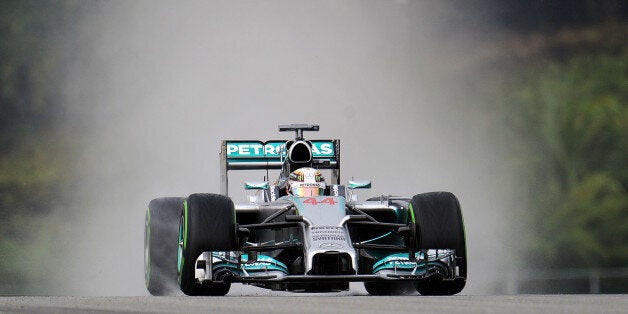 In a reprise of his success in Australia two weeks ago, Hamilton stormed to victory by the skin of his teeth, edging a resurgent Sebastian Vettel.
It was Hamilton's 33rd pole win, matching Jim Clark's British record which had stood since 1968.
Nico Rosberg finished third in the second Mercedes. The German seemed to struggle on full wet tyres in the difficult conditions in Q3 but delivered a lap of 2:00.050, which was good enough to push Ferrari's Fernando Alonso out to fourth.
Qualifying had been delayed for 50 minutes because of the wet conditions, which hampered the drivers throughout.
After his success he said: ""I'm really happy, firstly with the job the team has done and just generally how well we have done throughout the weekend.
"Today was just incredible, with how much it rained before qualifying and then during the session it was very, very tricky out there for everyone," he added.
Particularly at the end it was almost impossible to see anything. During my last lap I just couldn't see a thing behind [Nico] Hulkenberg. I couldn't see where the track went, didn't know where the corners were, when to brake. These guys [Vettel and Red Bull Racing] are definitely a little bit too close, so happy to be here."