Mauritian student Yashika Bageerathi, who was due to be deported from Britain today, will no longer be on a flight scheduled to leave the country, said a spokesman for her school.
Yashika, 19, has been told she will not be on a 5pm Air Mauritius flight leaving Heathrow, although details remain unclear, said the spokesman for the Oasis Academy Hadley in north London.
The spokesman added that Yashika would remain in Yarl's Wood immigration removal centre where she has been since March 19.
Story continues after slideshow...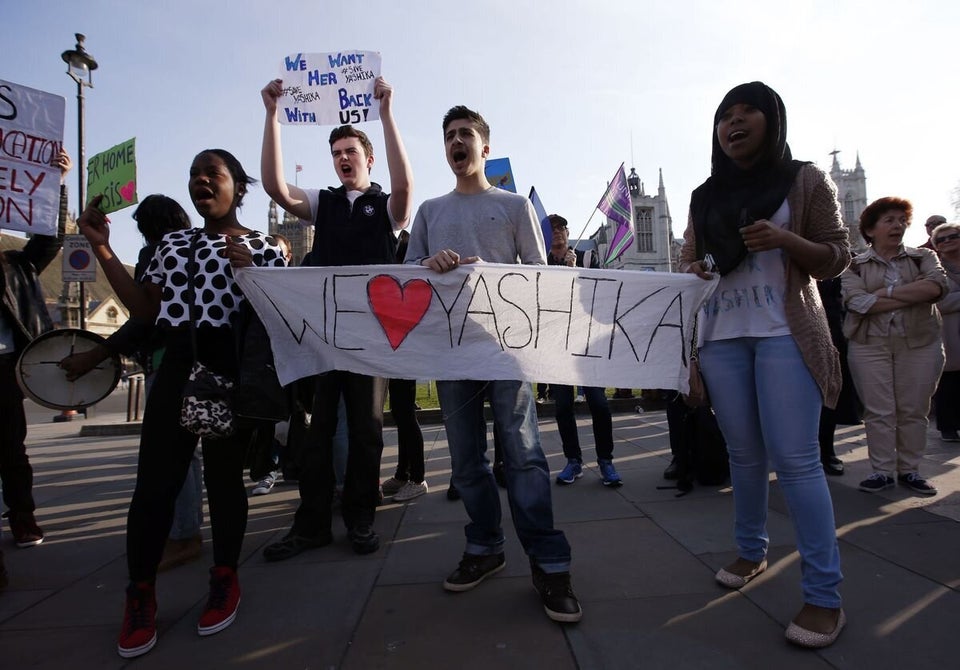 Yashika Bageerathi Protest
Air Mauritius have said that flight MK053 has not been cancelled and is still scheduled to leave Heathrow.
The Home Office said they do not comment on individual cases.
Lawyers acting on behalf of Yashika's school will attempt to make a last-ditch legal attempt to put a stop to her removal later today.
A legal team will lodge a High Court injunction to prevent the deportation. Lawyers have already had one appeal fail, a spokesman for the school added.
Promising student Yashika came to the UK with her mother, sister and brother in 2011 to escape a relative who was physically abusive and claimed asylum last summer.
On Tuesday evening, Yashika, her mother and younger brother and sister were told they all faced the threat of deportation after receiving a letter from the Home Office.
Yashika's mother, who is also facing deportation, was "struggling" and "tearful", said the school's principal, Lynne Dawes.
A petition by the students calling on immigration minister James Brokenshire and Home Secretary Theresa May to stop the deportation has garnered nearly 165,000 signatures on website change.org.
Shadow immigration minister David Hanson said he would be making contact with the Home Office asking them to review the decision.
The MP said on Twitter: "I am contacting the home office minister to intervene personally in #yashika case to ask for urgent further review."
May has said that the plight of the teenager had gone through the "proper process" and she would not be stepping in to prevent her deportation.
Speaking over the phone from Yarl's Wood, Yashika told Sky News that she did not know what to do, and that she just wanted the opportunity to finish her A-levels.
She said: "I just want to be with my mum right now and celebrate Mother's Day as we do every year because I know she is very special to me."
The principal of the Oasis Academy, Lynne Dawes, told Sky News that Air Mauritius had refused to take Yashika on the flight, but had no official information as to why she would not be leaving the UK today.
Ms Dawes said: "We believe that Air Mauritius refused to fly her. But Yashika was told by a Home Office official that there were technical problems with the plane."
"I can only think that maybe they've listened to what the people are saying and that they feel that it's wrong that she has to go back alone. But we have no official information on this, and this is one of the hardest things, just trying to understand what is happening to Yashika and her family," said Ms Dawes.
She added that lawyers representing Yashika were considering what their next step would be.
Related