Adrian told the Saturday Times magazine that the ill-fated 'Daybreak' was "an omnishambles, a stain on my professional soul".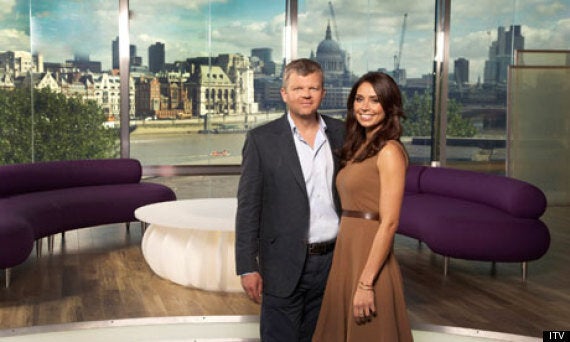 Adrian Chiles with Christine Bleakley on the set of 'Daybreak', where they lasted little over a year
However, he added, "I don't regret the move," which makes you wonder, how would he describe something he DID regret?
In 2010, Adrian moved from his regular weekday evenings slot on 'The One Show', following confirm that broadcaster Chris Evans would be sitting in the chair on Friday evenings.
Adrian was recruited by ITV's 'Daybreak' in a much-hyped team transfer reported to have secured him an estimated £1 million a year.
He told the Times, "Talking about pay is absolutely excrutiating. What I earn is nobody's business. When the papers were guessing about what I made when I left the BBC, lorry drivers would shout at me, 'How much do you f***ing earn?' It was horrible."
Christine went with him to ITV, but the chemistry that had warmed 'One Show' viewers' hearts failed to rescue the fortunes of their breakfast slot, and the pair lasted little longer than a year, leaving the show in late 2011.
Adrian now presents football coverage for the channel.
Related