Thirteen years ago today, former Arsenal footballer David "Rocky" Rocastle died from non-Hodgkin's lymphoma at the tragically young age of 33.
Rocastle played for Leeds United, Manchester City and Chelsea, but is best remembered for his eight-year Arsenal affinity. He was in the line-up on that unforgettable night at Anfield when it was up for grabs for Michael Thomas in 1989, and was also a member of the 1990-91 title-winning team.
Capped 14 times by England, Rocastle never truly recovered from his £2 million sale to then-champions Leeds in 1992 and struggled to excel at Elland Road.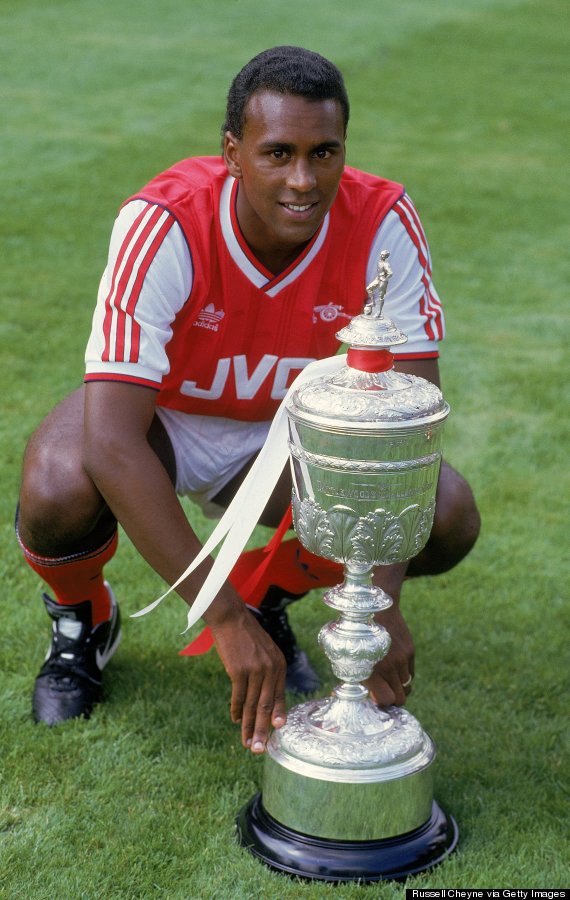 Rocastle poses with the Littlewoods Cup at Highbury in 1987
In February 2001, he announced he was suffering from non-Hodgkin's lymphoma. He died in the early hours of 31 March, despite hopes of a recovery.
Rocastle is immortalised outside the Emirates Stadium bowl, where his name - along with a select number of assorted Arsenal legends - are depicted in a spirited huddle.
A minute's silence for Rocastle was observed before the 2001 North London derby match with Tottenham Hotspur at Highbury. Spurs' caretaker manager David Pleat had suggested to the referee, Paul Durkin, that he blow his whistle as soon as there was the slightest interruption to the silence. There wasn't a murmur.