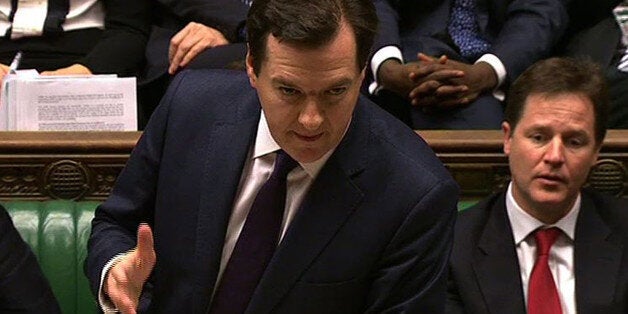 Nick Clegg has lashed out at Tory ministers for being "too preoccupied" with the rich and accused chancellor George Osborne of trying to "steal" credit for the Lib Dem policy of raising the income tax threshold.
The Deputy prime minister's attack came as Osborne tried to say that reducing the tax burden for the lower-paid was "the new way, our way" and hailed the tax cuts as "the biggest for a generation". The Chancellor also praised his austerity agenda as "the only plan in town" and said that the country was "starting to walk tall in the world again".
Osborne used the Budget this month to confirm that the allowance would rise to £10,500 next year, in a move he presented as proof of the party's commitment to the poor.
The Lib Dem leader went on to suggest that the Tories were not being sincere with their claims to support increasing the income tax threshold in order to help the poorest.
"It conflicts with what the Conservatives have said privately to me over four years," he said.
"They are trying to steal credit for it because they know it is a big popular progressive measure that benefits millions of people, and they know that they as a party have a problem in that they appear to be too preoccupied with the fortunes of those at the very top of society."
"There are better ways to help the low paid via the tax and benefit system than through further increases in the income tax personal allowance," the IFS concludes.
Labour said that Osborne was "taking away much more" than he was giving back through tax changes.
Shadow chief secretary to the treasury Chris Leslie said: "Working people facing a cost-of-living crisis are £1,600 a year worse off under George Osborne because wages have fallen in real terms.
"On tax George Osborne is giving with one hand, but taking away much more with the other. Analysis of figures from the IFS shows that households are already £900 a year worse off because of all tax and benefit changes since 2010."
Popular in the Community