Saturday marks the 20th anniversary since the death of Nirvana frontman Kurt Cobain.
Yes, that's 20 long years since the shockingly tragic demise of the King of Grunge.
Cobain took his own life on 5 April 1994, leaving behind daughter Frances Bean and wife Courtney Love.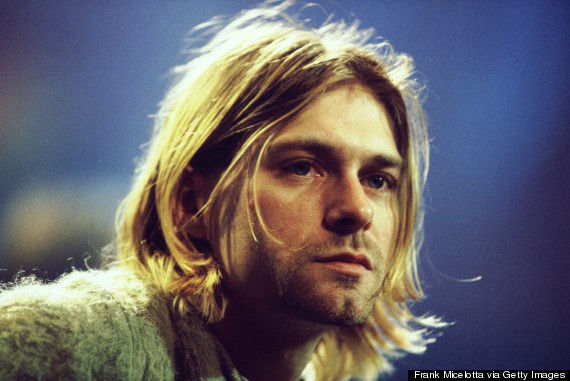 Saturday will be the 20th anniversary of the death of Kurt Cobain
Just 27 when he died, his mother Wendy O'Connor remarked at the time: "Now he's gone and joined that stupid club", referring to the common age at which many other musical luminaries passed away.
Jimi Hendrix, Janis Joplin, Kurt Cobain, Brian Jones and Jim Morrison all died at the age of 27, as did Amy Winehouse.
Released in 1991, Nirvana's seminal album Nevermind sold 10 million copies. The band also enjoyed chart-topping success with In Utero, its final release before Cobain's death.
Last month Seattle Police released previously unseen images showing drug paraphernalia at the scene of his death.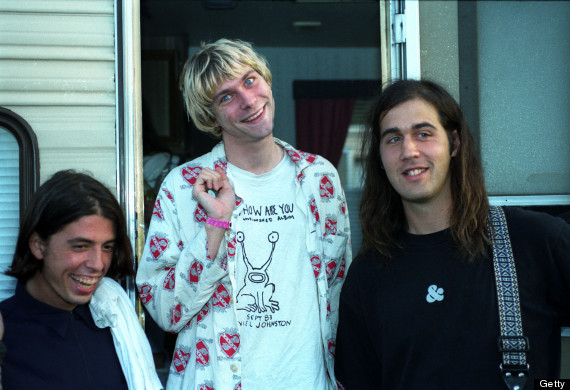 Cobain, pictured with Nirvana bandmates Dave Grohl (left) and Krist Novoselic (right)
The images came from rolls of undeveloped film discovered by Detective Mike Ciesynski, who was reviewing the case.
The development prompted speculation Cobain's death was being reinvestigated, but a police statement clarified: "There are no new developments, no new twists or turns in the case.
"He came upon this film, and that's pretty much it. It is still a suicide."
The images showed a cigar box filled with needles, a spoon and a lighter. Cigarettes, a pair of sunglasses and a crumpled banknote are also visible.
There were further pictures of Cobain's body at the scene but they will not be released.
Next week Cobain and former Nirvana members Krist Novoselic and Dave Grohl (now of the Foo Fighters) will be inducted into the Rock and Roll Hall of Fame.
The band's biography on the rock museum's website states: "It only takes one song to start a rock revolution. That trigger, in late 1991, was 'Smells Like Teen Spirit,' an exhilarating blast of punk-rock confrontation by Nirvana, a scruffy trio from Seattle."
Gone, but never forgotten. RIP, Kurt.
LIKE US ON FACEBOOK | FOLLOW US ON TWITTER