Underwater drones will be joining the search for the missing Malaysia Airlines MH370 this week, in the hope they can recover more than rubbish and fishing debris that the search for the doomed flight has so far thrown up.
On Tuesday, nine ships and 10 aircraft will resume their search for any flotsam in the ocean that could be a clue to finding the plane, which disappeared more than three weeks ago. Malaysian Prime Minister Najib Razak will travel to Perth on Wednesday to view the Australian effort.
"The search goes on," Australian Defence Minister David Johnston told Australian Broadcasting Corporation. "It's a very difficult task."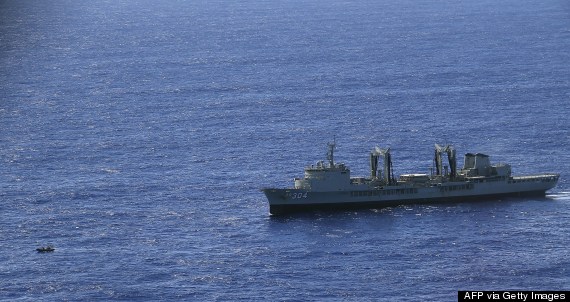 This aerial photo shows a small boat in front of the HMAS Success
"You have garbage from Australia, from Indonesia, from India," Erik van Sebille, an oceanographer at the University of New South Wales in Sydney told the LA Times. "There are small vortexes that are mixing up the debris like stirring a teacup."
An American underwater drone will be fitted to a US Navy ship, along with a black box locator, and will begin aiding the search this week. The black box's battery may die within 30 days, meaning searchers are running short on time.
Malaysia's acting transport minister, Hishammuddin Hussein, is attending a defence ministers' meeting with the United States in Hawaii on Tuesday, where he will discuss the deployment of more military assets for deep sea search.
The new search tactic comes as Malaysian authorities admitted they had made an error in reporting the pilot's last words, which were not "Alright, goodnight", but the more mundane "Good night Malaysian three seven zero". And authorities still do not know tif those words were spoken by the pilot or copilot.
The Bluefin drone, shaped like a "huge, yellow cigar" can dive down a little over 2 miles to about 100 feet above the ocean floor and take pictures, Boston's NPR reported.
Yesterday, China urged the families of those aboard missing flight MH370, which was headed from Kuala Lumpur to Beijing, to accept that their loved ones are dead.
An editorial in the state-run China Daily said that protests against the Malaysian authorities could harm China's "national interests, making all Chinese people pay for the tragedy".