Tina Malone and Jamelia have become embroiled in one of the strangest and most unexpected Twitter feuds we've ever come across, over comments the popstar made about older mums on lunch-time show 'Loose Women'.
During a discussion about having children later in life, Jamelia claimed that she felt that 50 was too old to have a child.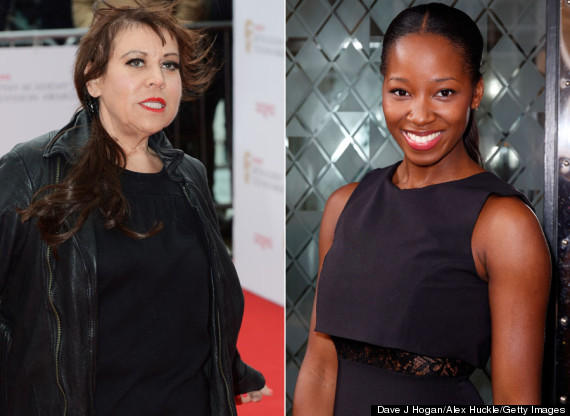 Tina Malone and Jamelia have gone head-to-head on Twitter
She told her fellow panelists: "I feel like I'm about to put a cat amongst the pigeons, but you have to understand my mum is 50. 50, I think, is too far removed from a child."
Tina, who found fame playing Mimi Maguire on Channel 4 series 'Shameless', started having IVF treatment when she was 48 and announced last year she was pregnant two years later to her personal trainer husband, who she met at boot camp.
Having become a mum for the second time at the age of 50, Jamelia's comments did not impress Tina and the opinionated actress let the world know about it on Twitter.
i have just watched loose woman,furios at jamelia,im 51 with a 15 wk old!!! i could stay up till 5am in a club,i can walk miles,!!

— Tina Malone (@TinaMalone23) March 31, 2014
i am fitter,look better,have more energy,can cook,work,clean,and go all nite... and i have a 32 yr old!! and jamelia,ii am wiser!!!

— Tina Malone (@TinaMalone23) March 31, 2014
Sticking up for older mums, she added:
@_msalexis_ im better in the kitchen,at the table,and in the bedroom then when i was younger,youth is amazg,but so is being older!

— Tina Malone (@TinaMalone23) March 31, 2014
Tina has said recently that she now wants to have another baby at the age of 51, explaining she didn't want her baby daughter Flame to grow up an only child.
Meanwhile, Jamelia has defended her comments on her own Twitter page, and she is not backing down either.
Thanks for all of your supportive tweets, I really felt like I was out there on my own today...but I stand by what I said, I didn't take...

— #Яebel (@JameliaTweeties) March 31, 2014
...The job on loose women to agree with everything the majority say. I am a woman with an opinion. I never want to upset people, but I...

— #Яebel (@JameliaTweeties) March 31, 2014
We are all entitled to our opinions, and that entitlement doesn't make them right. (Even though in this instance, I think I am)

— #Яebel (@JameliaTweeties) March 31, 2014
She also addressed Tina's criticism directly, tweeting: "Let's see if Tina is still saying that when her baby is my age."
Ouch... we have a feeling Tina is going to have something to say about that.
LIKE US ON FACEBOOK | FOLLOW US ON TWITTER