Atlético Madrid coach Diego Simeone was proud of his players after they earned a 1-1 draw in the first leg of their Champions League quarter-final with Barcelona at Camp Nou.
Atlético survived the loss of their top-scorer Diego Costa, who was substituted after just half-an-hour with a hamstring injury, to take the lead 11 minutes into the second period when the forward's replacement Diego unleashed a rasping drive into the top corner.
Neymar levelled for the Catalans in the 71st minute and from then on Atlético were hanging on, with goalkeeper Thibaut Courtois making three vital saves from Sergio Busquets, Andrés Iniesta and Lionel Messi before the final whistle sounded.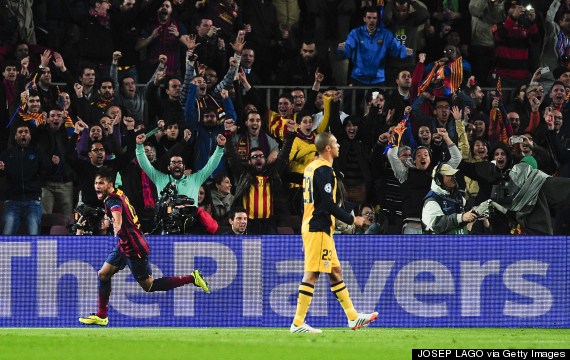 Neymar's equaliser denied Atlético a first win at Camp Nou since 2006
It was the fourth draw from four games between the sides this season, as Atlético were denied a first win at Camp Nou in eight years.
"I'm very happy with this team, this was the most decisive game of the two years I've been at the club and we are still going, showing enormous heart, and the way we fought makes me so proud, and I'm sure the fans are proud too," Simeone told the post-match press conference.
"I'm delighted we were able to compete with Barcelona, you don't earn the right to do that in a day, you earn it with hard work and today we showed we can compete with them."
The coach admitted Atléti were made to suffer in the final 20 minutes, but added: "This is the history of Atlético Madrid, always suffering, playing with their heart, never giving up, always keeping going. This group of players has huge heart. More than the result, here or in the return leg, this is what makes me proud."
Simeone could not give details on the extent of Costa's injury, but defended the decision to play the forward, who retired from training the day before the game after just five minutes.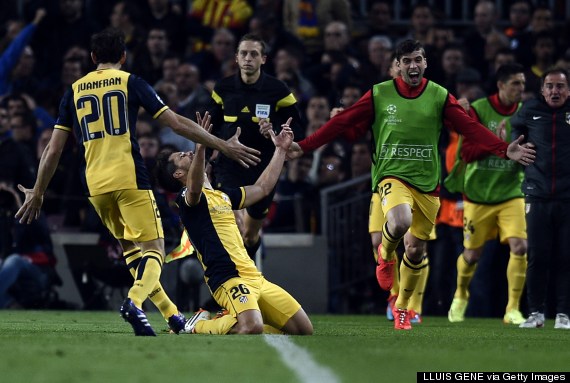 Diego gave Atléti the lead early in the second-half
"The injury he received wasn't the one he had before, he received so many knocks it's difficult to know where it came from," he said.
But the former Atlético midfielder spoke of his delight for Diego Ribas, who before the match had had an uneasy two months since returning to the club on loan in January.
"I was in a perfect position on the touchline and when he took the shot I knew it was going in. I felt pure joy," said Simeone. "The team needed Diego to demonstrate what he is worth and he did that, and he also needed to demonstrate his worth to everyone else.
"I'm delighted for him because he's been working so hard in silence and today was an example that hard work always pays off in football."
Meanwhile, Barca coach Tata Martino joked: "When I saw the ball go in I almost wanted to celebrate it, it was a tremendous goal."
The Argentinian also insisted he was pleased with his team's performance.
"The way Barça played fills me with pride," he said. "Sometimes it paid off, other times it didn't, but if we keep playing this way we will have every chance of success.
"I'm very happy with how we played, we deserved to score another goal. We maintained intensity over the 90 minutes and we didn't allow Atléti to play in space, we created more chances and their only chances came from a bad pass and a goal from 35 metres."