A quick glance at Cassandra Bankson, the 20-something model and New York Fashion Week regular, and you'd have no idea that she was once bullied for the way she looks.
Since her early teens, the Californian has suffered from cystic acne - a condition that earned her nicknames such as 'exorcist' and 'pizza face'.
But since growing up and regaining her own confidence, Cassandra is committed to helping others find strength in their appearance.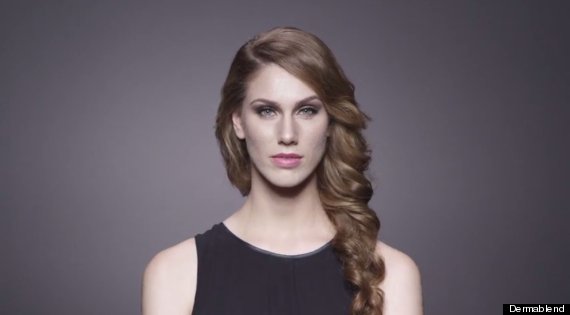 In a brave, honest and sometime emotional confession, Cassandra removes her make-up to reveal her acne, which spreads across her face, neck, chest and back.
"I used to use make-up to cover up, and to hide who I was. Now, I use it to express myself and show the world who I truly am," Bankson says in her video.
Cassandra was first approached to model for New York Fashion Week back in 2012 - after becoming an internet sensation for her make-up tutorials for fellow acne sufferers.
The moving video forms part of Dermablend's "Camo Confessions" campaign. The company, which specialises in camouflague make-up, also features videos from Cheri Lindsay a woman who suffers from a rare skin condition called vitiligo and and Rick Genest (also known as "Rico the Zombie"), whose face and body are covered in tattoos.
See Also:

How To Be Beautiful When You Have Cancer: Leukaemia Patient Sets Up Inspirational Beauty Blog

Naked Ballerina Photographs Showcase The True Power Of A Woman's Body