'Kaiser Chiefs' frontman Ricky Wilson has taken to Twitter to share his excitement at the fact that the band's fourth album 'Education, Education, Education And War' is at number one in the Official Album Chart's mid-week update.
Ricky, currently a mentor on BBC1 show 'The Voice', has been using the micro-blogging site to urge fans to buy a copy of the album, adding that they are only just in the lead. "I can't believe we're at #1 midweek (just...) This could actually happen," he wrote. "Tell a friend. Tell two friends! Mobilise the troops!!"
'X Factor' winner Sam Bailey is currently at number one place in the album chart with her debut 'The Power Of Love', however, at present, Kaiser Chiefs look set to steal the top spot.
Since joining 'The Voice', Ricky has been a huge hit with fans and in this weekend's shows his final contestant Christina Marie could make it a double celebration if she's crowned winner of the competition.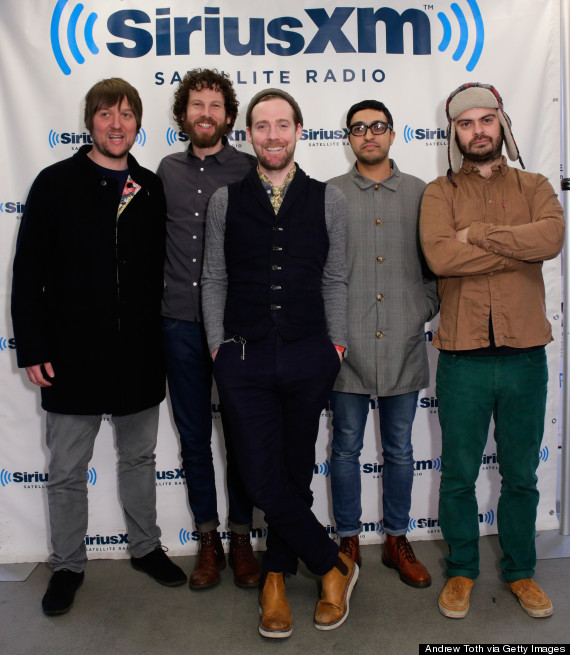 Kaiser Chiefs in January 2014
'Education, Education, Education And War' is the Kaiser Chiefs' first album since the 2011 record 'The Future Is Medieval', which peaked at number 10 in the UK chart.
The record is their first release without founding member Nick Hodgson, who left in 2012. The drummer and co-songwriter was replaced by Vijay Mistry.
Appearing on the primetime BBC show has brought Ricky a lot of extra attention and he recently spoke out to rubbish claims that he'd undergone a huge makeover just prior to joining 'The Voice'.
"I got that gig on the TV show two weeks before we started filming, and if I had lost the weight for the TV I'd be selling my secrets," he explained on Absolute Radio.
"I had the opposite because I didn't worry about anything. I think happiness makes you thin. Take that Davina!"
LIKE US ON FACEBOOK | FOLLOW US ON TWITTER