BBC viewers could be forgiven for thinking they're seeing double this week, with actress Nina Sosanya on screen in two prime-time, but very different, shows, proving her versatility.
Viewers of 'Shetland' saw her fly off back to Aberdeen in last night's episode, after her character traffic incident investigator (very specialist, surely?) Willow Reeves caused ripples of slight discomfort and a frisson of something else to Detective Inspector Perez, happily settled onto his Shetland isle.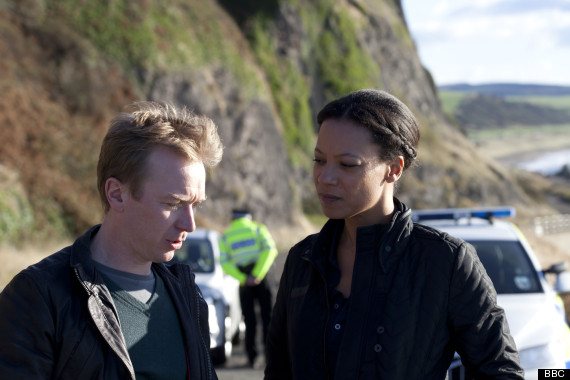 Nina Sosanya stirring up the locals in 'Shetland'
And tonight, she's back in action as beleaguered producer Lucy Freeman at the BBC in the comedy 'W1A', bluffing her way through a day where her colleague manages to lose his star presenter because of a text "that just appeared out of nowhere". And, is it me, or is there a frisson, too, between her and Ian Fletcher (Hugh Bonneville) as they bump into each other in the lifts and say their goodbyes? Nothing his assistant Sally (Olivia Colman) would be too happy about, I'm sure.
But, if it feels like she's suddenly burst onto screen, in fact, Nina Sosanya has been working at her craft for two decades now.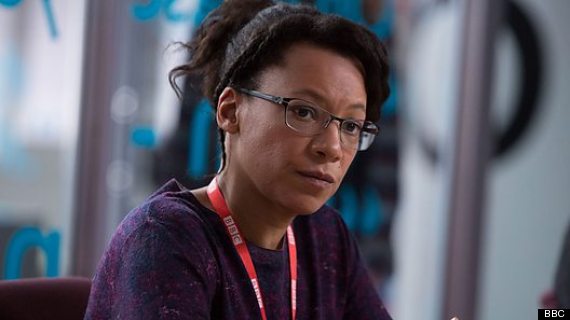 ... and as Lucy Freeman in 'W1A'
Born in London, Nina trained in the North, before joining the Royal Shakespeare Company. She got her big break in 'Anthony and Cleopatra' at the National Theatre.
Her TV break came with 'Teachers' opposite Andrew Lincoln in 2001, before she appeared in 'The Jury' 2002' and 'Prime Suspect 2' (2002).
Film fans will recognise her from 'Love Actually' where she played Annie, Prime Minister Hugh Grant's assistant, who introduced him to his great romance Nathalie (Martin McCutcheon).
Since then, she's appeared in all sorts, from David Tennant mini-series 'Casanova' to courtroom drama 'Silk', from 'Meadowlands' to 'Silent Witness'.
A bigger role was Kate in 'Last Tango in Halifax', the love interest of Sarah Lancashire's character Caroline. But, by all previous form, this current one-two combo of police drama and comedy has probably been the biggest week of all, with no doubt lots more to come from this talented, versatile and, whenever the role asks for it, radiant actress.
MORE: Has 'W1A' mocked Susanna Reid's knicker-flashing moments on BBC Breakfast?
'W1A' continues tonight on BBC2, at 10pm.
LIKE US ON FACEBOOK | FOLLOW US ON TWITTER