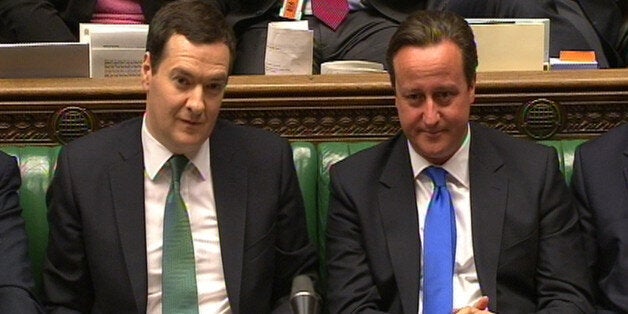 George Osborne and Tory ministers are making "unnecessarily heavy weather" of justifying why they cut the top rate of income tax from 50p, a senior Conservative backbencher has warned.
Graham Brady, chairman of the 1922 committee which represents the Tory backbenches, said that ministers avoid giving a "simple answer" to justify cutting the income tax rate for top earners. He also suggested that George Osborne should consider going as far as introducing a flat rate of income tax.
"I think the government makes unnecessarily heavy weather of it sometimes," he said, during a question and answer session after delivering this year's Keith Joseph Lecture in Westminster.
Ministers "end up getting into a big rigmarole of how the wealthy are paying more in tax than under previous Labour governments" when questioned about the decision, he added.
"The simple answer surely for Conservatives is of course we believe in lower taxes and we believe in lower taxes for everyone, and we believe it is more efficient and increases their incentives to work hard," he told his audience at an event hosted by the Centre for Policy Studies on Wednesday night.
"The politics of that was very straightforward and it really wouldn't have made any difference to the popularity or the unpopularity of the measure if you went from 50p to 40p rather than 45p. In some ways we've just made it more difficult for ourselves [and] we've left an unnecessary complication in the tax system as well."
This comes as Tory MP John Redwood called on Osborne to cut the top rate of income tax yet further, pointing to figures from HM Revenue & Customs showing that the rich were paying £9 billion more since Osborne cut the 50p top rate.
Figures from HM Revenue and Customs showed that the total income tax take from earnings taxed over £150,000 increased from £40 billion last year to £49 billion this year.
Brady urged the Tory leadership to consider offering bold tax cuts in their manifesto for the next election, like cutting stamp duty and capital gains' tax to stimulate the housing market. He also hinted that Osborne should look again at measures like flat taxes.
"Is there any point in the future when stamp duty will be abolished? Maybe not abolished but I hope we'll see a time when it is very, very dramatically reduced. I hope to see a time when the rough steep climbs that are occurring disappear."
Brady said it was now "extraordinarily expensive" to for first-time buyers in London due to the high property prices in capital, and that the government ends up making it "significantly harder" by adding a "big wedge of stamp duty" on top.
"I think we can make a strong case on [reducing] capital gains tax, and we should," he said.
"We should remind George Osborne of those heady days when he first became shadow chancellor and he went off to Estonia and studied flat taxes."