Richard Ayoade's name may be creeping up the pecking order of desired actors, funnymen and, now, directors ('Submarine'), but it seems the 'The IT Crowd' star has yet to make his way fully up a red carpet.
When I ask him if he's enjoying cutting a bit of a dash amongst the glitterati these days, he denies that "any dash has been cut" and goes on to explain…
"I went a quarter of the way up a red carpet for 'The Watch', and that's not even a euphemism.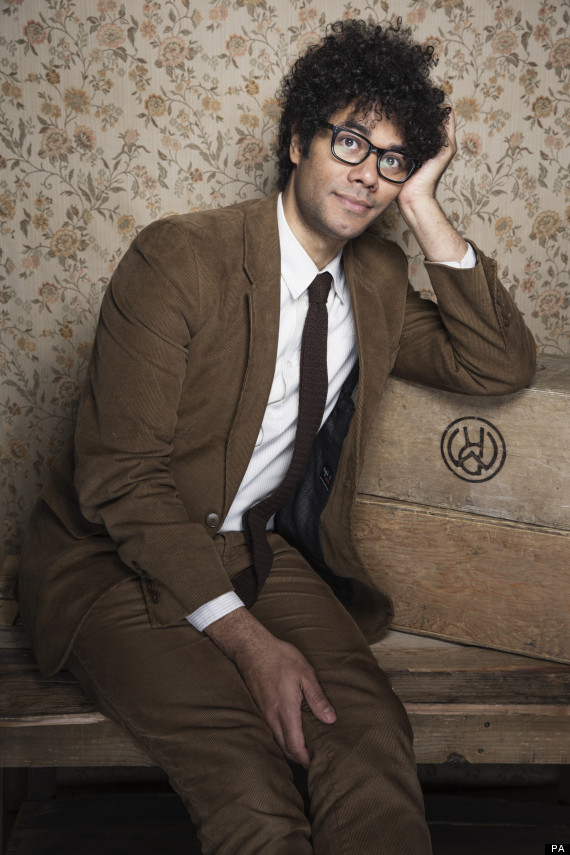 Richard Ayoade - possibly one of the film industry's more self-deprecating characters
"We were filming 'The Double' and we didn't have money for me to stay off set too long, so I went up the red carpet a few paces before I had to go and catch a plane before everyone else had even arrived, because who goes to the red carpet at 6pm? It's an hour before the film starts.
"So that's the only red carpet I've been on and no one else was on it."
That will surely change if Richard's career continues at its current trajectory – his latest film an ambitious adaptation of Fyodor Dostoevsky's novel, 'The Double', starring Jesse Eisenberg and Mia Wasikowska.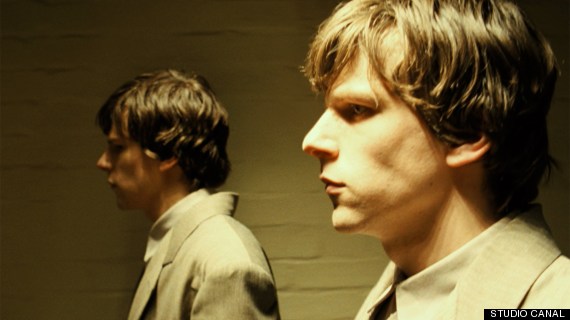 Jesse Eisenberg (twice) in 'The Double'
Jessie Eisenberg plays lowly office worker Simon James, whose daily drudge is made bearable only by the presence of a colleague on another floor, the enigmatic Hannah (Mia Wasikowska).
Just as he's beginning to make headway, his progress is interrupted by the arrival of James Simon, charismatic, confident, effortlessly engaging, everything Simon is not – except he is his physical double, and played, too, by Jesse Eisenberg.
"The central idea to me was to me so exciting and funny and sad at the same time," explains Richard. "This lowly person so put upon and invisible that when an exact replica appears, nobody notices.
"It's so unusual, and such a brilliant way to take it, that what you hope will be the reaction of others is completely confounded, that your concerns are not those of others, that people don't see you how you would like to be seen.
"It's the city life of today, I suppose," he goes on. "It's a very different kind of life, and it's happened quite quickly, historically speaking, and it's all very strange."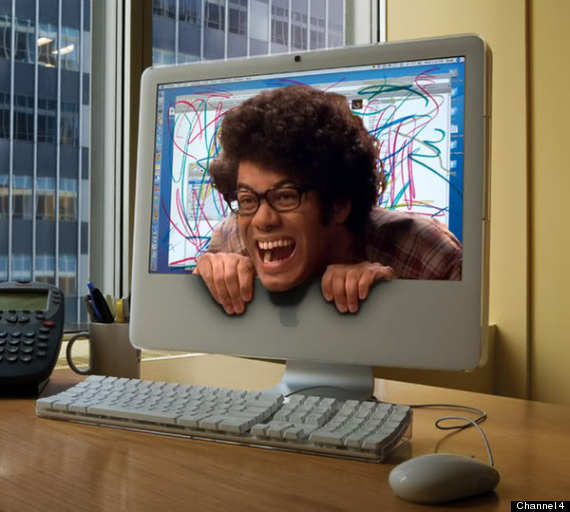 Richard Ayoade in 'The IT Crowd'
Why Jesse?
"His name was the only one that really stuck with us," explains Richard of his leading man, who broke through with an equally awkward but engaging performance in 'The Social Network' as Mark Zuckerberg.
"He could be put upon but also slick, without it feeling caricatured.
"You need a great deal of charisma to be a movie star. But you're never going to feel sorry for Brad Pitt, whereas someone like Dustin Hoffman can make you feel sorry for him, using his power to draw you in, and Jesse has that same quality.
"It's like the difference between Gary Cooper and Henry Fonda. Gary Cooper isn't vulnerable. Fonda's handsome and tall, too, but there's a sadness to him. There aren't many people who can do that, and that's why we went after Jesse."
'The Double' is in UK cinemas from Friday 4 April. Watch the trailer below...
LIKE US ON FACEBOOK | FOLLOW US ON TWITTER