David Cameron has hailed the reopening of a storm-wrecked rail line as "a great day".
After weeks of work by a 300-strong team, Network Rail (NR) has been able to restore the badly-damaged line at Dawlish in Devon.
Mr Cameron said: "This is a great day for the hard-working people of Dawlish, and for businesses and commuters across the South West whose lives have been turned upside down by the devastating loss of their train line."
The coast-hugging line at Dawlish bore the brunt of the severe weather this winter, with the sea wall breached and the line badly damaged on February 4.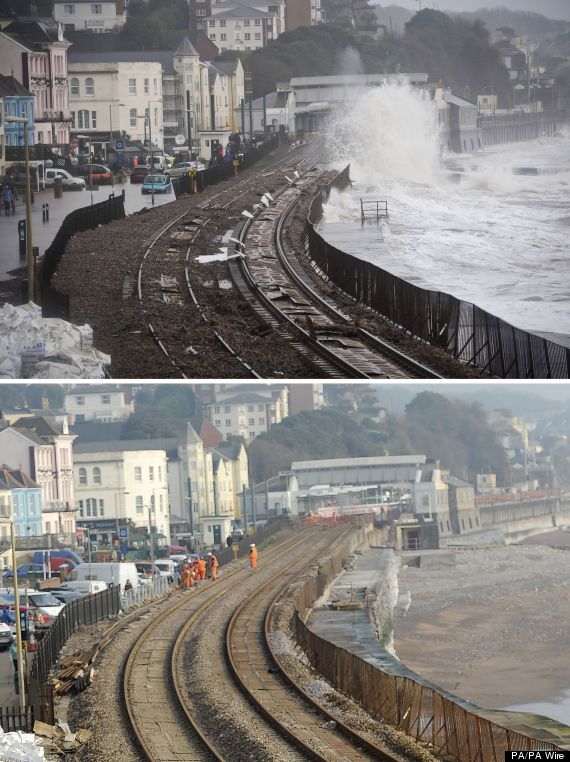 This led to the line linking Exeter St Davids with Newton Abbot, Plymouth and Penzance to close and saw the start of a huge repair job by NR.
Large teams of workers moved in to start the massive clear up.
But the work was hampered by another severe storm on the night of February 14/15 when monstrous seas battered and damaged the 10-tonne shipping containers forming the temporary sea wall.
The storm damaged a further 10 to 20 metres of sea wall and more shipping containers had to be moved in.
There were further problems on March 4 when engineers discovered that 20,000 tonnes of cliff face near Teignmouth just south of Dawlish had sheared away above the railway.
This meant stabilisation work had to be done.
With its teams working around the clock, NR was able to bring the line reopening date forward two weeks to today, enabling the line to be open in time for the Easter holidays.
Mr Cameron said: "Back in February when I visited the town to see the damage for myself, I promised to do everything I could to get this vital artery back up and running as quickly as possible.
"I am delighted to say that promise has been delivered today.
"A promise which says that the South West is well and truly open for business.
"The impact of the extreme weather shows the importance of making our railways strong enough to weather any storm.
"That is why we announced a £31 million package of improvements and asked NR to examine every option to ensure the resilience of this route, all part of our long-term economic plan to boost business and create more jobs in the region."