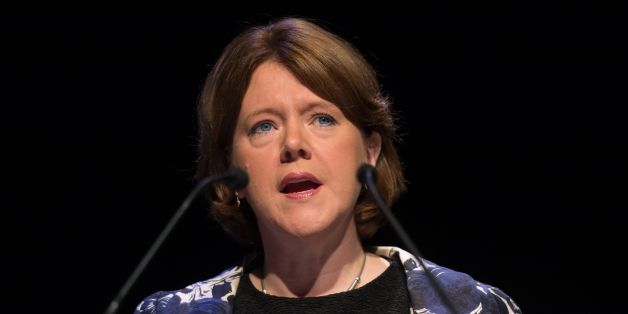 Stefan Rousseau/PA Wire
David Cameron's director of communications has denied threatening The Daily Telegraph with the spectre of press regulation in an attempt to suppress a story about Maria Miller's expense claims.
Yesterday the culture secretary was forced to apologise to the House of Commons after she was found to have repay £5,800 in overclaimed mortgage interest. Miller said she hoped her apology would end the matter. However she has been attacked for not cooperating fully with the inquiry into her expense claims and is now facing calls to resign.
This morning, the former Daily Telegraph editor Tony Gallagher told BBC Radio 4's Today programme that Miller's office as well as Downing Street had tried to pressure the paper not to run the story when details first emerged.
"We had a series of phone calls around the time this story was being prepared for print," he said. "Maria Miller's special adviser rang one of the reporters concerned - Holly Watt - and said to her that Maria has obviously been having quite a lot of meetings around Leveson."
And he said he also had a call personally from Craig Oliver, David Cameron's communications chief, "pointing out that she's [Miller] looking at Leveson".
Gallagher added: "When you get phone calls from a special adviser flagging up a connection to Leveson and saying you should take this up with people higher up the organisation, it can hardly be construed as anything other than a threat."
Downing Street has insisted Oliver had not made any threats or attempted to link the expenses story to the Levesion inquiry into press regulation. "I'm making absolutely clear that he did not threaten Tony Gallagher any way over Leveson," a spokeswoman for the prime minister said.
This afternoon Oliver also emailed the BBC Daily Politics programme while it was on air to rebuff the claims. "Tony is talking rubbish about me, and you can use that," he said.
Gallagher hit back on Twitter, claiming it was "extraordinary that Craig Oliver wants the story to be about him" and suggested the No.10 communications chief was acting as a "human shield" for Miller.
Labour MP Thomas Docherty has written to the Metropolitan Police asking them to investigate whether Miller broke the law with her expense claims. "I believe this matter warrants further investigation and I believe the Metropolitan Police are the appropriate body to carry out such an investigation," he said.