A Pakistani Christian couple have been sentenced to death after they allegedly sent a text message insulting the Prophet Mohammed.
Shafqat Emmanuel and Shagufta Kausar were found guilty under the country's strict blasphemy laws, previously described by Amnesty International as "draconian".
The couple, who are in their 40s and have three children, will appeal the sentence, reports the BBC.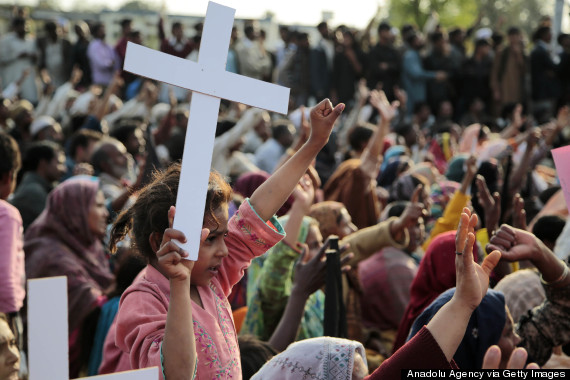 Pakistani Christians hold cross during the protest against the demolition of Christian streets in Islamabad
The complainant was an imam, Maulvi Mohammad Hussain, of the local mosque in Gojra who filed the claim last July.
Lawyers for the couple argue the phone the message was sent from was lost before the alleged incident and so could not have been from them, reports AFP.
There is concern that many people use the country's laws as a means to settle scores.
Pakistan currently has a de facto moratorium on death sentences meaning it is unlikely it will be carried out presently.
Gojra has been the site of clashes and tensions between Muslims and Christians. In 2009 rumours spread that a Christian had desecrated a Quran leading to a mob torching houses and killing eight people.
Last month another man was sentenced to death blasphemy after using derogatory remarks against the Prophet Muhammad in an argument with a Muslim friend.
The case sparked two days of fierce rioting in the city of Lahore in March last year when the allegations surfaced, with a 3,000-strong group of Muslims torching some 100 Christian homes, Newsweek Pakistan reports.