A regional newspaper editor has revealed he lost "thousands" of sales after featuring two gay men kissing after tying the knot on the front page.
The Bristol Post ran the piece, headlined: "You may now kiss the groom", on 31st March.
But following a drastic drop in sales, editor Mike Norton is now asking his readers whether he went "too far".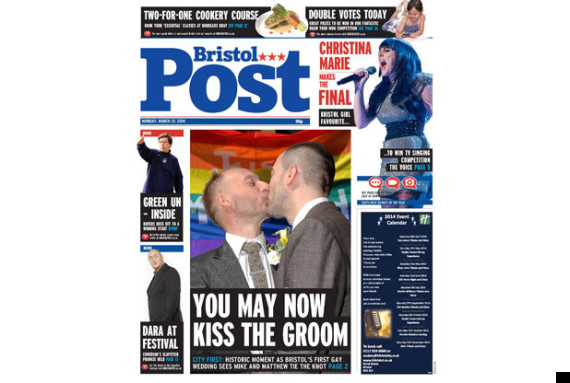 This was the Bristol Post's front page on 31 March
In a blog post, he wrote: "One of the things I love about my home town is how characterful, tolerant and non-conformist its people are. So I thought Bristol was ready for that picture.
"But, boy, was I wrong. We lost thousands of sales of the paper. Which surprised me. Because, on the day, we received just nine phone calls of complaint.
"I've asked a lot of people about that picture, friends and relatives from all walks of life and all parts of the city. Absolutely no one I've spoken to admits to finding it offensive.
SEE ALSO: Best Photobomb Ever! Lesbians Share A Kiss Behind Same-Sex Marriage Protester (PICTURE)
"But clearly, what people say and what people do are different. Of course, I knew that. But I didn't think it would apply in this case.
"So – at the risk of attracting every troll in the vicinity – I've decided to ask the internet. I want to hear from the people who didn't buy the paper because of that picture. Tell me why.
"I ask only that you are reasoned and honest. But I want to start a dialogue and genuinely understand why the picture put you off."
Comments about the piece have been varied, with Norton being accused of using the picture for "shock value" and others claiming the figures constitute a mere "blip", along with the suggestion many simply read the piece online.
Another states: "You see a drop in sales, I see everybody exercising their right to have their own opinions. At least they're only refusing to buy your paper and not stoning your offices and burning you all to death. So that's a bonus."
Welsh Exile writes: "Many people didn't buy your paper because the sight of two men kissing was distasteful to them… You see, many people out there are still offended by homosexuality but, of course, legislation makes them fearful of speaking out loud for fear of prosecution. The day has yet to come, however, when those in authority can pass laws forbidding people to think what they want. Free speech on certain subjects might be dead but free thought marches on unhindered."
Meanwhile Norton tells HuffPost UK: "The sensible comments have made me realise that Bristol perhaps isn't ready for a picture like that.
"It makes me disappointed. I still think Bristol is a very tolerant, non-conformist city. The tolerance is spreading, it won't be long before it is ready."
And he adds the experience will not put him off using similar images in future: "I'll continue to push the boundaries. Bristol is a modern, 21st century city and I want a modern, 21st century paper for it."
James Taylor, head of policy for gay rights charity Stonewall, said: "While some people chose not to buy a newspaper with a front cover image of a happy same-sex couple kissing on their wedding day, for hundreds of thousands of people across Britain this type of positive coverage on such a monumental day was very welcome and long overdue.
"Even in 2014 lesbian, gay and bisexual people can struggle to find their relationships portrayed fairly in the media and the Bristol Post and other media are to be congratulated on marking such a historic day this way."
What do you think?