Simon Cowell has hinted that he doesn't think Gary Barlow was a worthy replacement for him on 'The X Factor', stating that he wouldn't let the 'Take That' singer run his label.
Gary replaced Simon as a judge on the talent show after he quit in 2011, but now that Simon has announced that he's returning to the series, he revealed that he wasn't too impressed with Gary's judging methods.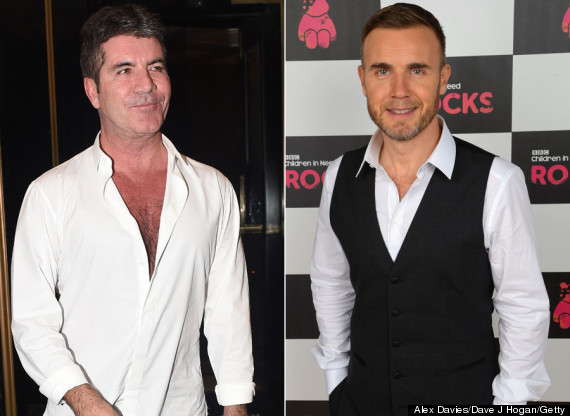 Simon Cowell and Gary Barlow
He told The Sun: "The truth is - and I am not being rude - I wouldn't hire Gary to run my record label.
"Essentially that is what you are doing with the 'X Factor' judging panel. But if Gary and I were running a record label we would do it in a different way."
Simon has also admitted that his experience in the music industry before becoming involved in TV talent shows - he did discover the musical greats Mr. Blobby and the Teletubbies after all - makes him better qualified for the judging job than popstars who have sat on the panel.
"I think all these shows have become so celebrity driven, you are hiring someone based on how famous they are and I am not sure that is a good thing in the long term," he said.
"I do believe I am the best person at spotting a potential star and making them work well on the show."
The music mogul also defended his recent decision to lower the 'X Factor' age limit for auditionees to 14, and responded to Gary's comment that 16-year-olds are too fragile for the show.
Simon said: "Can you imagine saying to Gary Barlow at 16, 'You're too young to be a musician'? Give me a break.
"If you look at the charts now, the 14-year-olds are more like 16, 17-year-olds. So it felt the right way to go."
As well as appearing on 'The X Factor' later this year, Simon is a judge on the new series of 'Britain's Got Talent', which kicks off ON Saturday 12 April at 7.15pm on ITV1.
href="http://www.facebook.com/HuffPostUKEnt"target="_hplink">LIKE US ON FACEBOOK

| FOLLOW US ON TWITTER