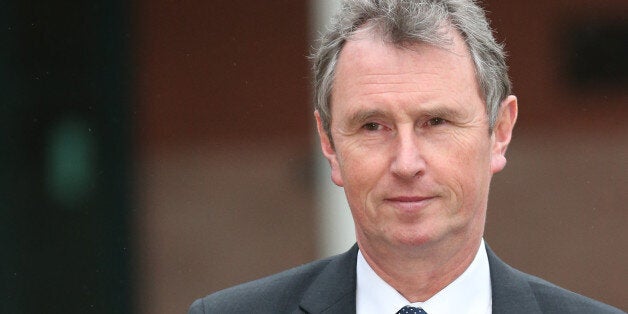 The former House of Commons deputy Speaker Nigel Evans has been found not guilty by a jury at Preston Crown Court of committing a string of sexual offences against seven men.
A jury at Preston Crown Court found Evans, 56, not guilty of one count of rape, five sexual assaults, one attempted sexual assault and two indecent assaults.
Speaking outside the court this afternoon, Evans said he had been "through 11 months of hell" after being cleared of committing nine sexual offences against seven young men. "Nothing will ever be the same again," he added.
"As many of you know I've gone through 11 months of hell," he said. "In my darkest and loneliest times, there were only two or one set of footprints in the sand. Those of you of faith will know, they weren't mine."
The MP said despite being cleared it was not the time for "celebration or euphoria". He added: "All I can say is that after the last 11 months that I've gone through, nothing will ever be the same again."
The Ribble Valley MP was alleged to have used his "powerful" political influence to take advantage of his alleged victims but the defence pointed out inconsistencies in various witness accounts and questioned the credibility of the evidence.
The rape complainant, aged 22, told the jury he was raped and sexually assaulted by Evans after a dinner party at the defendant's home in Pendleton, Lancashire, in March last year. But the gay MP said the sex was consensual.
Peter Wright QC, defending, suggested the complainant gave a false account because he regretted having sex with a man more than twice his age. The barrister said that was no basis on which to convict.
In 2003, Evans was said to have indecently assaulted two men in their 20s when he approached them in public places while drunk and put his hand down their trousers - one in a Soho bar and the other at a hotel bar during the 2003 Tory party conference in Blackpool.
The jury heard in his defence that these were examples of "drunken over-familiarity" rather than the ingredients of a criminal offence and Evans had no recollection of either event.
Another complainant said he was sexually assaulted by Evans while sleeping on the sofa at the MP's Lancashire home in July 2009.
Evans admitted he had made a pass and apologised to the young man after he was hauled into the Conservative whips' office, the court heard, but denied he had put his hand in the complainant's boxer shorts.
The jury was told the allegation "gathered a momentum of its own" after the man mentioned the incident to another MP last year, which in turn "propelled" him into a meeting with Speaker John Bercow.
He was accused of embellishing his story when it became a police matter but two of his close friends bolstered his allegation by coming forward to say they too had been sexually assaulted by the MP.
One friend said he had to push Evans away after the MP leant in to kiss him behind a curtain near the Strangers Bar at the House of Commons in 2009. Evans joked the man had "a mouth powered by Duracell" and told police: "I wouldn't kiss him for fear of turning into a frog."
The other friend said Evans "cupped" his genitals in the same bar when introduced to him in 2010 - an allegation Evans labelled "absurd".
The MP said both men were lying and said another complainant made up his claim that he pushed him into a darkened kitchenette near the deputy speaker's office and groped him in 2011.
Evans was a Conservative MP before he was elected in 2010 as one of three deputy speakers, a politically neutral role. He stepped down as a deputy speaker last September after he was charged with the offences, involving men who were all in their 20s at the time.
He has not returned to the Conservatives in the Commons and is representing his constituents as an independent.
Evans' local Tory party said they were "delighted" after he was found not guilty of all charges, bringing a "very difficult" year to an end.
The chairman of Ribble Valley Conservative Association Michael Ranson said Mr Evans had always assured his local party that he would be cleared.
Ransom said: "We are delighted that the jury has returned a not guilty verdict on all the charges that were brought against Nigel."
Popular in the Community