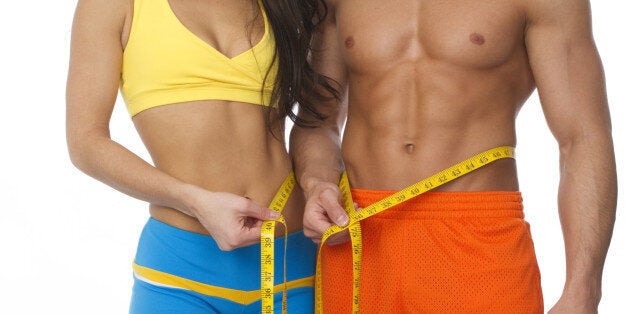 While women seem to long for Cara Delevingne's face, Duchess Kate's hair and Elle MacPherson's endless legs, the average man's 'perfect woman' is considerably different.
In short men prefer more curvy female celebrities, with favourite body parts including Kim Kardashian's breasts, Michelle Keegan's tummy and Kelly Brook's hips.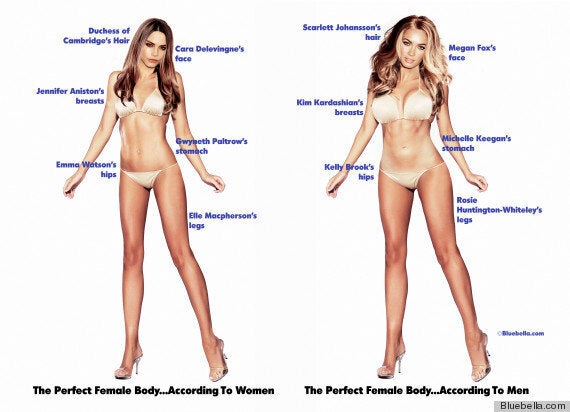 A new survey by lingerie Bluebella has gathered the preferences of both genders, creating 'body beautiful' composites using the most celebrated physical attributes of celebrities.
While women opted for the boyish hips of youthful Noah actress Emma Watson, 23, men plumped for the fuller curves of 34-year-old model Kelly Brook.
The biggest difference is in our choice of favourite face. While women aspire to the supermodel features of model Cara Delevingne, 21, men are more attracted to the softer features of actress Megan Fox, 27.
Ladies admire the pert and perky - and age-defying - breasts of Jennifer Aniston, 45, while men appreciate the fuller bust of US TV star Kim Kardashian, 33.
When it comes to hair, long luscious locks are a winner for everyone - but while women are enthralled by the Duchess of Cambridge, 32, their halves would love to run their fingers through 29-year-old Scarlett Johnsson's mane.
Women are less concerned than men about age when picking celebrities with admirable bodies.
Gwyneth Paltrow, a 41-year-old mother of two, has the best toned tummy, according to other women.
And 50-year-old Elle Macpherson - still known as The Body - came top of the female poll for perfect pins.
Men and women are equally conflicted with the masculine ideal. Ladies are charmed by the beautiful, open face of Fifty Shades of Grey star Jamie Dornan, 31, while men want the flawed but chiselled bone structure of Bradley Cooper, 39.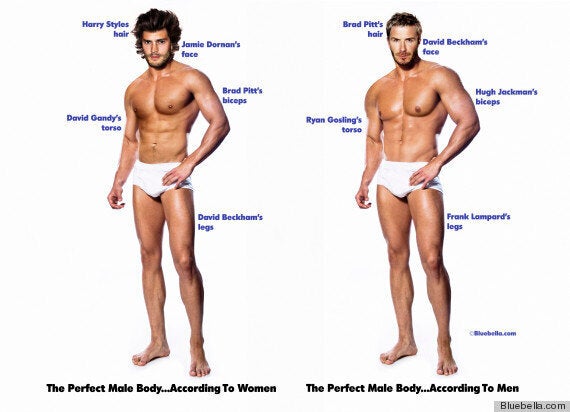 Bluebella asked 1,000 men and women to pick their favourite body characteristics which were:
The perfect woman - according to women: Cara Delevingne's face, Jennifer Aniston's breasts, Gwyneth Paltrow's toned stomach, Duchess of Cambridge's locks and Elle MacPerson's legs.
The perfect woman - according to men: Megan Fox's face, Kim Kardashian's boobs, Michelle Keegan's tummy, Scarlett Johansson's hair, Rosie Huntington-Whiteley's legs.
The perfect man - according to women: Harry Styles' hair, Jamie Dornan's face, David Gandy's torso, Brad Pitt's biceps, David Beckham's legs
The perfect man - according to men: Brad Pitt's hair, David Beckham's face, Ryan Gosling torso, Hugh Jackman's biceps, Frank Lampard's legs