If the the word 'burger' makes you think of a greasy ball of grey meat slopped between two slices of stale bread, think again.
You've probably a) been to too many football matches and b) never been treated to a luxury burger that is so very à la mode at the moment.
We've teamed up with four top burger-tastic London restaurants - Village East and Brigade to Opera Tavern and Elliot's Café - to bring the new foodie trend to a plate near you.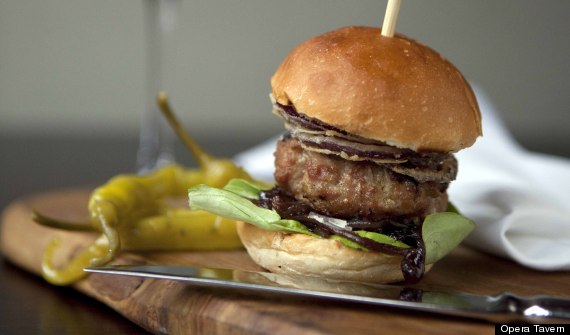 Opera Tavern - Mini Iberico Pork Burger
Makes 8 small burgers
Ingredients:
600g Iberico pork shoulder mince
2 tablespoons milk
2 shallots, finely chopped, sweated in olive oil
2 tablespoons breadcrumbs
40g foie gras (frozen)
1 red onion, cut into fine rings
sweet smoked paprika
flour for dusting
50g aged Manchego cheese, grated
8 x 8 cm burger buns, cut in half
2 tablespoons aioli
8 small lettuce leaves
3 tablespoons red onion marmalade
8 guindilla peppers to garnish
olive oil for cooking
sea salt and black pepper
Method:
Mix the Iberico pork with the milk, breadcrumbs, shallots and season with salt & pepper. Quickly grate in the frozen foie gras and mix again.
Shape into eight patties and chill in the fridge for at least an hour.
Soak the onion rings in milk and drain well. Dredge the onions in a mixture made of equal quantities of smoked paprika and flour. Heat some olive oil in a pan and shallow fry the onion rings until crisp and golden brown. Drain well and season.
Drizzle some olive oil onto both sides of the burger and season. Grill or fry for 3 minutes on either side until nicely browned and still pink in the centre. Rest the burger for a minute or so in a warm spot and sprinkle on some grated manchego. It will melt slowly over the burger.
Grill the burger bun on both sides until lightly charred.
To assemble the burger:
Spoon some aioli onto the base of the burger bun. Top with a lettuce leaf, a dollop of the onion marmalade, the burger, 2 crispy onion rings and finally the top of the burger bun. Slide a small wooden skewer through
a toothpick through the middle of the burger to secure everything in place. Serve with guindilla peppers on the side.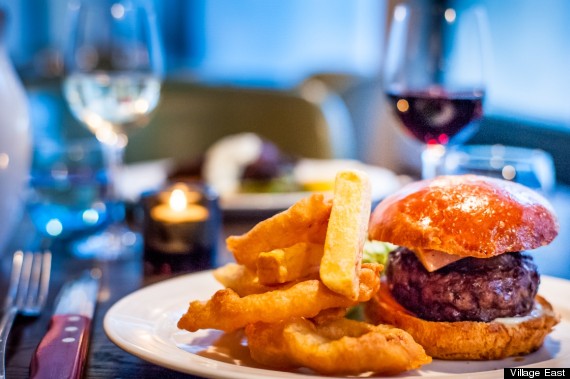 Long horn beef & Bone Marrow Burger, caramelised onions and duck parfait
Ingredients:
For the patty:
500g Minced Beef Chuck – dry aged
125g Minced Beef – 28 day dry aged Rib eye trimmings
25g Bone Marrow
Seasoning
Method:
Mince the chuck and trimmings, add Bone Marrow, mix together well along with the seasoning.
Leave to marinate for 10 minutes.
Pass back through the mincer again.
Form into 220g burgers
Cook on a chargrill or similar to impart the flavour of the smoke and coals to the patty,
Cook it to your liking, we recommend medium.
Once the burger is almost ready, top with some caramelised onions, a slice of duck parfait, lastly a slice of Applewood smoked cheddar cheese and place under a grill to melt the cheese. Leave the burger to rest for 2 minutes before assembling.
Serve in a demi-Brioche roll, lightly toasted on the grill.
To assemble the burger:
Cut the bun in two, toast lightly. Place mayonnaise on the bottom, along with a thin slice of beef tomato. Place your burger on top; follow up with a slice of sweet pickled gherkin, a slice of round lettuce. Smear the top bun with tomato burger relish and serve immediately.
Garnish with battered onion rings and hand cut chips.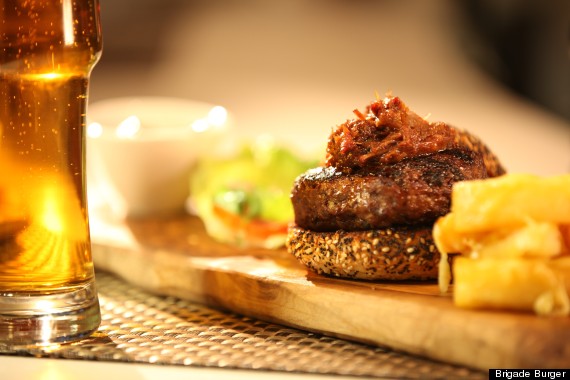 See Also:

9,000 Calorie Burger With 36 Toppings - Would You Try It?

McDonald's McDouble Burger Named 'Cheapest, Most Nutritious Food In History'
The Brigade Burger With Braised Oxtail and Camperlou Brioche
Serves: 4
Ingredients
For the burgers:
500g best quality minced chuck steak
1 small red onion, peeled and finely chopped, caramelised and cooled
2 garlic cloves, peeled and finely chopped, caramelised and cooled
1 tbsp wholegrain mustard
1 tbsp ketchup
1 tsp Worcestershire sauce
Few dashes of Tabasco sauce
Sea salt and freshly ground black pepper
Olive oil, to brush or drizzle
Eggs, whisk
Breadcrumbs
20g chopped parsley
For the onion relish:
2 red onions, peeled and finely sliced
50g butter
1 tbsp Demerara sugar
1 tbsp balsamic vinegar
Secret spices
100g plum tomatoes
To serve:
4 camperlou Brioche Buns, highly glazed
Few sprigs of thyme, leaves stripped
160g braised oxtail and short rib off the bone
50ml rich red wine sauce
Few lettuce leaves
Few slices of ripe tomato
Homemade dill pickles
25g x 4 slices Westcombe cheddar
Cheesy Chips
Method:
Mix the mince, cooked onion and garlic, mustard, ketchup, Worcestershire sauce and Tabasco mix together and add the eggs, breadcrumbs and parsley and season well. Cook a little to check the flavours correct.
Shape the mixture into 4 burger patties. Place them on a tray lined with baking parchment, cover and chill for about 30 minutes to allow them to firm up.
Meanwhile, make the onion relish: fry the onions in the butter with the secret spices and some seasoning for 6-8 minutes until soft. Add the sugar fry for 4-5 minutes until caramelised. Drain excess fat and add the balsamic vinegar and tomatoes. Cook for 2-3 minutes until the onions are soft and sticky.
When you're ready to start cooking, brush the burgers with a little oil, and then place them on the grill of a hot barbecue. Cook them for 7-10 minutes, turning halfway. Place the cheese on top of the patties and cover the burgers with the hood of the barbecue (or a stainless steel bowl) for a minute as this will encourage the cheese to melt down nicely.
In the meantime, drizzle the cut side of the camperlou brioche with with a little olive oil and sprinkle with thyme leaves. Lightly toast the burger buns, cut-side down.
Warm the braised oxtail in the red wine sauce until hot.
To assemble the burgers, sandwich the patties between the warm, toasted camperlou brioche buns, add a heaped spoon of braised oxtails and a spoon of onion relish and a few slices each of lettuce and tomato.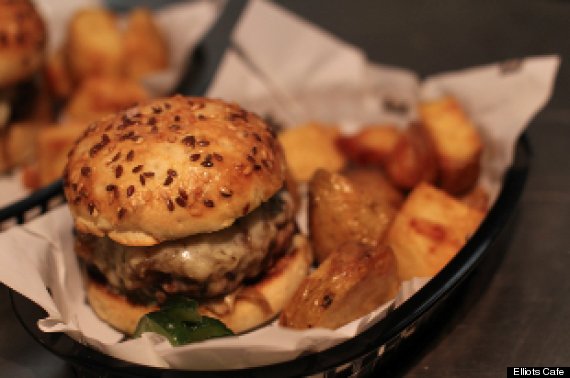 Elliot's Café Burger
Serves 4
Ingredients: 
4 brioche style buns.
4 160g burger patties - ask butcher for burgers with nothing added: no breadcrumbs, egg, seasoning etc. We use a coarse ground beef that has a mixture of 75% meat and 25% fat.
Dill butter:
100g salted butter
5g sugar
2.5g salt
5g vinegar
half a bunch of dill
Onions:
500g sliced onions
50g salted butter
100g aged beef fat
Cheese:
100g grated 12 month old comte.
100g oglesgield.
Method:
Dill butter:
Allow the butter to soften. Chop the dill finely and mix through the butter with the salt, sugar and vinegar.
Onions:
Melt the butter in a pot with the piece of fat and a splash of water. As the water evaporates the fat will start to turn translucent and turn liquid. At this point put the onions in with a pinch of salt and cook gently stirring often till a deep dark brown. Allow to cool with the piece of fat still in the pot but remove before serving.
To serve:
Season the patties on both sides with salt and pepper. Cook for two mins on one side. Turn and top with a large spoon of onions and a handful of the cheese mix. Place a large metal mixing bowl over the burger to create an oven effect. Cook for two mins more remove from the heat and allow to rest for two mins.
While the patties are resting toast the buns on the cut side, spread both sides generously with dill butter, top with the patty and eat.
Contributors will be showcasing their creations at Burger V Burger, a cook-off that will pit twelve of London's best burger flippers against one another in front of an audience of more than 400 people. Buy tickets to the event, which takes place on 17 October 2013, here.