New Zealand republicans made their feelings about the Royal visit Down Under quite plain on Friday afternoon, with an aircraft carrying an anti-monarchist banner about the heads of the Duke and Duchess of Cambridge.
Not all Kiwis are as adoring as the crowd that greeted Prince William and Kate in Auckland harbour.
In bold red letters, the light aircraft carried a sign that read: "Time for a Kiwi Head of State." It was a two hour flight, hovering overhead as the Duke and Duchess took part in a yacht-race at Waitemata Harbour. A plane tows a banner reading 'time for a Kiwi head of state'
It was paid for by New Zealand Republic, a campaign group which advocates the abolition of the monarchy
"Our main aim is to make sure as many Aucklanders as possible hear about our campaign and see our core message," the group's chairman, who identifies himself only as "Savage", told Fairfax New Zealand.
"We think it's important that people understand there is far more to the royal visit than just photo opportunities, that there's actually an ongoing constitutional debate about what is best for New Zealand."
On the waters below, the Duke and Duchess of Cambridge's yachting duel ended with an emphatic victory for Kate.
Looking every inch the experienced sailor, the Duchess won two races piloting an America's Cup sailing boat, leaving William trailing in her wake.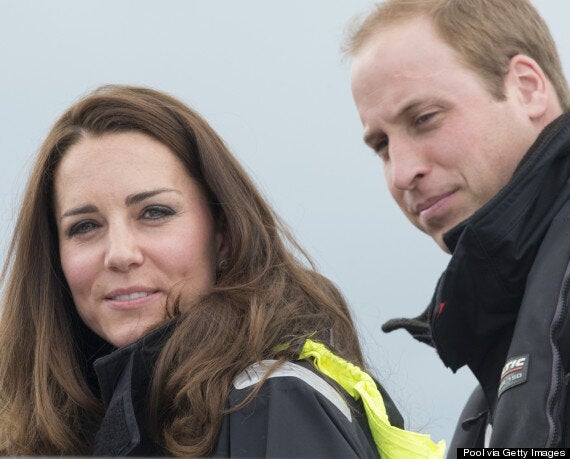 Catherine, Duchess of Cambridge and Prince William, Duke of Cambridge on board an America's Cup yacht in Auckland Harbour
William and Kate had asked for the opportunity to go sailing on Waitemata Harbour said Grant Dalton, managing director of Emirates Team New Zealand, which won consecutive victories in 1995 and 2000 in the world's premier yachting race the America's Cup.
But before they took to the water the couple enjoyed a private lunch on the 144ft super yacht of Swiss-Italian billionaire and Team New Zealand benefactor Matteo de Nora.
After the race the Duke and Duchess had a thrilling, bouncy ride across the harbour in an amphibious vehicle.
The royal couple grinned broadly as they took turns at the wheel of the Sealegs, which can reach speeds of 40 knots and then be driven like a car on land.
Afterwards they were given a miniature Sealegs custom-made for baby George.
David Glen, Sealegs chief executive, said: "It's an inflatable, amphibious little contraption for youngsters. It is absolutely bespoke. It was finished yesterday - four weeks from conception to completion."
He added that the Duke and Duchess were "astounded," he said: "They cannot wait for it to get to Kensington Palace. But they have to work out where to use it. The Duchess said she regretted he was not here to give it a try now."