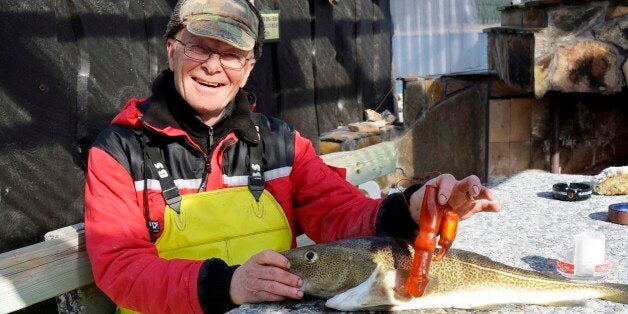 If a cod ate your red dildo recently and you are anxious to have it returned, we have good news.
Bjorn Frilund was fishing near Eidsbygda, Norway when he reeled in a six-kilogram fish. He looked inside and found the dildo.
It's unclear at this stage whether this was an added bonus for the 64-year-old, though Metro reported the sight of the sex toy caused "his happiness to turn to dread".
He also told the paper the fish may have eaten the dildo because it looked like the multicolored octopus that can be found in Norwegian waters.
"Fish eat all kinds of different things and the dildo looks like what the fish eat," he said. "We have a kind of multi-coloured octopus in Norway, maybe the cod thought this was one of these and ate it."
He speculated that the machine, which still had a small motor at one end, had been tossed off a boat, perhaps by "a frustrated woman on a cruise" in the Barents Sea.
He said the chances of someone catching the fish were probably less than winning the lottery.
Whatever his first reaction, the fisherman now seems to have got over the shock of discovering the dildo enough to pose happily with it in his hand.
And if it is your dildo, send us your details so we can write them down and feed the piece of paper to a six-kilogram cod in the Barents Sea. Mr Frilund should hopefully be in touch soon.