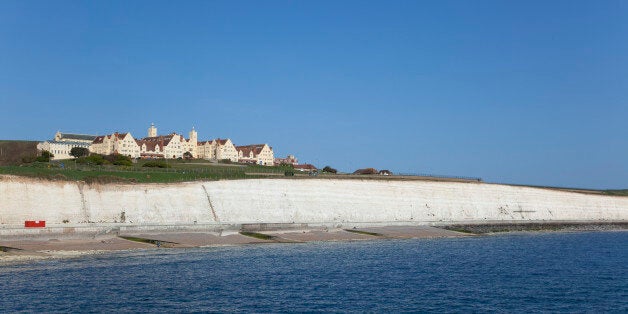 A man survived an 80ft cliff fall after his car left the road and plunged into the sea.
The driver was able to get out of the vehicle and make his way to the rocks following the incident in Roedean, near Brighton, which happened shortly after midnight, a spokesman for the Newhaven Coastguard said.
He said the car had "miraculously" managed to clear the undercliff promenade after leaving the A259, landing in the water.
Newhaven Coastguard sent a cliff technician down a ladder supplied by East Sussex Fire and Rescue Service from the promenade to the beach to join firefighters and paramedics who were already with the man.
Sussex Police and the South East Coast Ambulance Service also attended the incident.
The spokesman said: "A second ladder was installed to use as a slipway and the casualty was secured into Newhaven Coastguards rescue stretcher and then using some of our cliff rescue equipment we were able to slide the stretcher up the ladders.
"With nine members of various agencies on the three ropes and two of the Newhaven team at the top of the ladder we were able to bring the casualty up from the beach where they were handed into the care of paramedics.
"All the time the recovery operation was ongoing a member of the Brighton lifeboat crew who had swum ashore in a dry suit was inspecting the vehicle to check for any secondary casualties."
Brighton and Newhaven lifeboat crews also made a brief sea search in opposite directions while two coastguard teams searched the beach a few hundred metres each side of the car in case anyone else was in the water.
The spokesman said: "With approximately 22 emergency service workers from various agencies as well as two lifeboat crews this was fantastic team work leading to a swift extraction of the casualty."
Chief Superintendent Nev Kemp tweeted after the incident: "Incredibly a man escaped without serious injury after his car went over the cliff near Roedean just after midnight and ended up in the sea."
Popular in the Community