A west London hair salon had a visit from North Korean officials demanding they remove a poster that mocked their leader's unusual hairstyle.
Staff at M&M Hair Academy in South Ealing, west London, put up a poster with "Bad Hair Day?" emblazoned across a picture of Kim Jong-un, with details of a special offer on men's haircuts in April.
The dictator sports a hairdo which is shaved around the sides and then longer on top, which has reportedly become compulsory for all men in the country.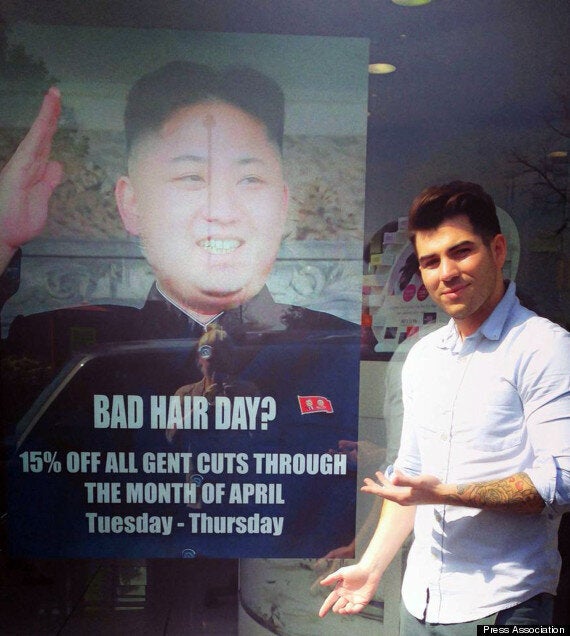 The salon put a poster up mocking North Korea's leader Kim Jong Un's haircut
Barber Karim Nabbach, 26, said that salon manager Mo Nabbach was confronted by two men claiming to be officials from the country, demanding to know his name.
Karim Nabbach said: "We put up posters for an offer for men's hair cuts through the month of April. Obviously in the current news there has been this story that North Korean men are only allowed one haircut.
"We didn't realise but the North Korean embassy is a 10 minute walk from the salon. The next day we had North Korean officials pop into the salon asking to speak to the manager.
"He said 'listen this isn't North Korea, this is England, we live in a democracy so I'm afraid you're going to have to get out of my salon'."
The manager later reported the visit to police, and the embassy also contacted officers.
Karim Nabbach added: "He (Mo) went to Ealing police station afterwards to file a report just in case anything happened to the salon overnight. Apparently they went to the police as well.
"We haven't had any trouble since then, if anything the poster has become a tourist attraction. It was just something that had been in the news, and the North Korean officials didn't even have the haircut.
"We always put up little offers in the window, it's harmless. We were just making light of a bad situation in North Korea."
A spokesman for Scotland Yard told HuffPostUK: "We have spoken to all parties involved and no offence has been disclosed."
The North Korean Embassy is an inter-war semi, also in Ealing, that is a far cry from the plush buildings in Belgravia, Knightsbridge and Kensington that account for most embassies in London.
The Huffington Post UK tried to contact the embassy by phone for comment but had received no response as this story went live.
Related