Fewer than a fifth of people in the UK think homosexuality is "morally unacceptable", the sixth lowest of any country to take part in new research on social attitudes.
The Pew Research Center has published a report that charts people's opinions on social issues including homosexuality, abortion and extramarital affairs.
It shows 17% of Britons thought homosexuality was immoral, the sixth lowest of the 40 countries surveyed and a stark contrast to most intolerant country Ghana, where 98% of people thought this.
The data also shows the French are the most laid back about people having affairs.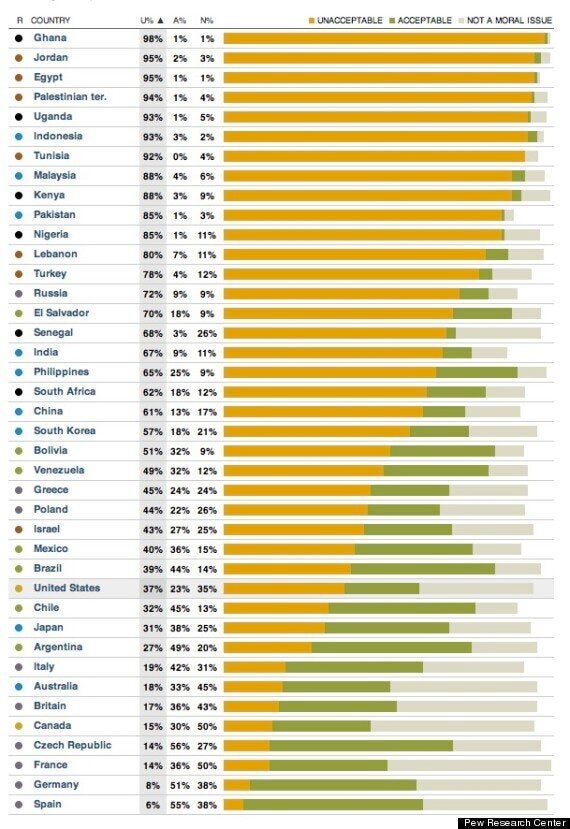 Britain had the sixth lowest proportion of people believing homosexuality was "morally unacceptable"
A total of 36% of British people polled said they felt homosexuality was morally acceptable while the remainder - 43% - said it was "not a moral issue".
The five countries more tolerant than Britain were Canada, Czech Republic, France, Germany and Spain, where only 6% felt homosexuality was immoral.
In most of the 40 nations polled, half or more of the people said homosexuality was unacceptable. In seven countries, 90% or more said this. In most of the 40 countries polled, at least half of people said homosexuality was immoral
Britons were much less laid back about extramarital affairs, with 76% of us saying they were immoral, placing the UK 19th most tolerant of the 40 countries, behind Russia, a country not renowned for its social liberalism.
In France, 47% said affairs were immoral, the only country where fewer than half felt this way and some way behind second place Germany, where 60% felt this.
Britain was also the fourth most laid back about abortion, with only a quarter of us saying this morally unacceptable, third most relaxed about alcohol, with 9% saying this was immoral and fourth calmest about gambling, with 26% saying this disapproved of it.