The family of a London Marathon runner who died after completing the course have paid tribute to a "a fun-loving and caring person".
Robert Berry, 42, was given medical attention when he collapsed immediately after finishing the 26-mile race, and was pronounced dead at hospital.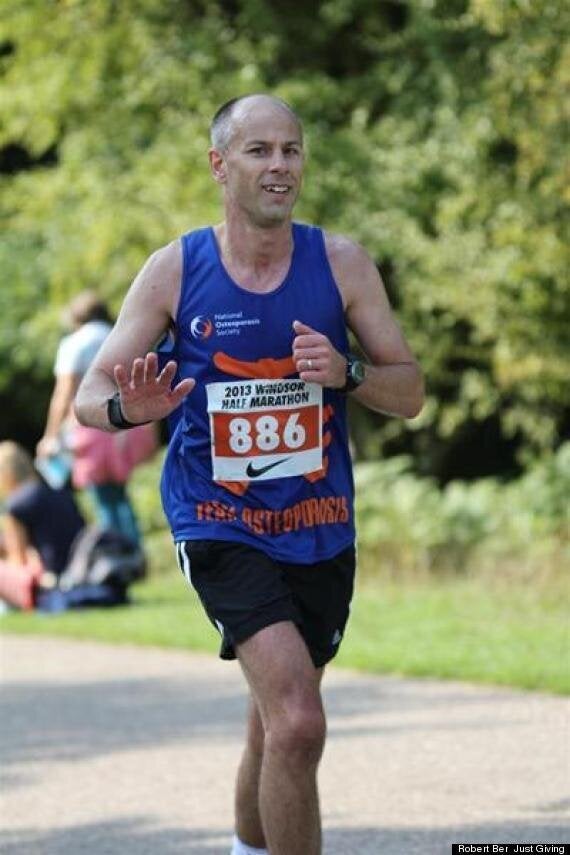 Robert Berry collapsed and died at the finish line of Sunday's London Marathon
Mr Berry, from Reading, Berkshire, had aimed to raise £1,700 for the National Osteoporosis Society in tribute to his "inspirational" mother, who was diagnosed with the brittle bone condition at the age of 52.
In a statement issued by his family, they thanked the thousands of people who gave their support, words of comfort and donations.
They described Mr Berry as "a keen sportsman" from an early age and who joined the Rustington Otters Football team at the age of nine.
The statement read: "He will be greatly missed by his family, friends and work colleagues - a fun-loving and caring person, respected, loyal and very much loved by us all.
"He was a loving husband to Gwen and an amazing father to his two children and will remain forever in their hearts. Rob was a loyal and loving son to Alan and Ann and a fantastic, caring brother to his younger sister Janet who always looked up to him."
The family said they were devastated and shocked by his death and added: "(We) cannot believe that he is no longer with us to share in our lives and laughter... Rob will be a great loss to our family."
But they said they were "overwhelmed by the heartfelt messages and donations".
Mr Berry, who worked in IT services, ran the Reading half-marathon last month. His family said he had become a keen runner in recent years and "the marathon was something he wanted to achieve whilst raising money for a cause close to all our hearts.
"He has left us having completed a world renowned race which makes us so very proud and in our eyes Rob is a hero."
The keen runner's goal for the marathon was to run it in less than three hours and 30 minutes. His actual time has not been disclosed.
He described how breathing during a training run was "a big struggle" in a post just seven days before Sunday's event.
"I have now used my inhaler three times in the last week whereas I might use it three times in year," he wrote.
According to his online training results, Mr Berry had been preparing for the marathon since December and had completed training runs of over 20 miles.
Yesterday, a spokesman for the charity he was raising money for, said: "We are really touched by the incredible generosity in tribute to Mr Berry, who wrote so movingly about why he was raising money to help fight osteoporosis.
"When the time is right, we would like to discuss with his family the options available for how the funds raised in his memory may be used."