A runner who died at the finishing line of the London Marathon had suffered breathing problems in the weeks before the race.
Robert Berry, 42, wrote in his blog how breathing during a training run was "a big struggle" and that that he'd "now used my inhaler three times in the last week whereas I might use it three times in a year."
He added it been suggested to him his condition was "not hayfever, but due to pollution and the dust from the Sahara."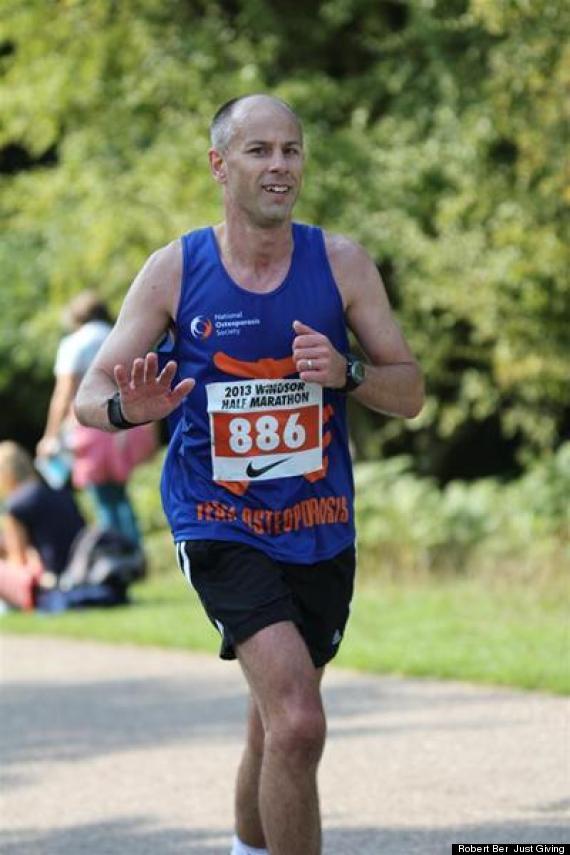 Robert Berry collapsed and died at the finish line of Sunday's London Marathon
He added: "Hope so as I don't want to be running like this during the Marathon."
Earlier this month the UK endured record levels of air pollution, thanks to a phenomenon known as "Sahara dust" – a deposit of dust and sand all the way from the deserts of North Africa.
SEE ALSO Sahara Dust: 7 Things You Didn't Know About This Curious Weather Phenomenon
Experts warned the dust can trigger hayfever-like symptoms and cause existing respiratory problems to flare up, prompting a warning to those with lung or heart disease to avoid strenuous exercise outside.
Asthma sufferers were also told to use their inhalers more often.
Berry took part in the race to raise money for the National Osteoporosis Society.
His target had been £1,700 but at time of press, more than £37,000 has been donated to his JustGiving page since he died.
Berry, who worked in IT services, ran the Reading half-marathon last month. According to his training regime, he had been preparing for the race since December.
A statement from race organiser Virgin Money said: "It is with regret that we can now confirm that Mr Robert Berry, aged 42, collapsed at the finish of the London Marathon. He was immediately taken to one of our medical facilities where he was treated by four consultants, including one in emergency medicine. He was transferred to St Mary's Hospital, where he was pronounced dead.
"The organisers of the Virgin Money London Marathon would like to continue to express their sincere condolences to the family and friends of Mr Berry and our thoughts and deepest sympathies are with them all at this difficult time."