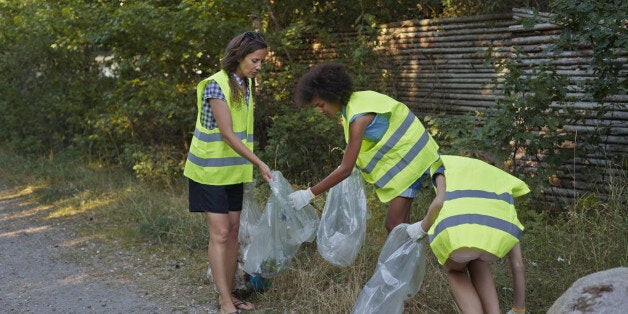 If you've ever thought about volunteering, you probably thought of it as something you 'should do' – for your community, society or people around you who would benefit from help that you're in a position to give. It's all about being a good person and 'giving something back', right?
Well, kind of. But that's not the whole story. It's great to donate some time and expertise to a good cause. But as well as being advantageous for those on the receiving end, really great volunteer opportunities should offer something valuable to the volunteer, too.
Done right, volunteering can be a powerful tool for personal and professional development. The key is to pick the right opportunity for you. So what should you be looking to get out of it?
Moira Swinbank, CEO of vInspired gives us a few ideas:
1. You can explore your interests (without the price tag).
Whatever you're into – from sports to music to filmmaking to teaching, it can be pricey to access those specialist training courses and events that will help you build skills and networks in your chosen fields. But a lot of volunteering opportunities will offer you the chance to do just that, for free! The only ask is that, while you learn, you channel your efforts into a project that does some good for others. It's win-win!
2. You can show you're committed.
Volunteering can be a great way to try your hand at something you've never done before without having to be a full time commitment. Good volunteering opportunities can fit around your lifestyle, still allowing you to get stuck in and make a difference. Even if you've just got an hour a week to spare, there will be an organisation out there with an opportunity that can help you turn that hour into one that makes a huge difference. They might even be able to make use of stuff you're already doing!
3. Get a head start on the career ladder.
For those taking their first career steps, volunteering is a great way to solve that 'not enough experience' problem. It's great for the CV – not just because it shows you care about the world around you, but also because it offers the chance to gain hands-on experience at a much higher level than your average summer job or work experience placement.
Instead of filing, photocopying and making coffee, the right volunteering opportunity can give you experience of running events, managing a team, and delivering a whole project from start to finish: pretty impressive for a first-jobber! Plus, the fact that you've given up your time for free will show any prospective employer that you're worth your weight in gold when it comes to passion and commitment.
Some volunteer programmes will also offer easy ways to show off what you've done. For example, with the online vInspired Awards system, volunteers get the recognition they deserve – recording volunteering hours and awarding certificates that are recognised by universities and employers.
4. You can build your social network. Volunteering needn't be all hard work – it's also a chance to have a lot of fun and meet likeminded people with similar interests and passions. You'll be amazed at how often volunteers' shared sense of achievement from a job well done forges lifelong friendships and even professional connections!
5. You can show what you care about.
Everyone is passionate about something. Whether it's improving your local community to make your neighbours' lives better, or taking action to make a change on a cause like the environment, bullying or animal welfare. A great volunteer opportunity should give you the chance to make an impact – and to see the results of all your hard work!