It never ceases to amaze how empty grounds look just minutes before kick-off. Most supporters are not in a rush to take their seat when there are nearby watering holes and the only attraction is the at-times questionable soundtrack which precedes the game. Warm-ups are rarely fascinating but, on this day in 1989, those who took their seat early in Munich's Olympiastadion were in for a treat. Napoli's Diego Maradona was about to get his groove on to Opus's "Live Is Life".
Maradona had transformed Napoli. The club won their first ever Serie A title in 1987, as well as the Coppa Italia, a year after Maradona had led Argentina to their second World Cup win. Just 26 at the time, Maradona was at the same age George Best was when his decline at Manchester United began, but the Argentinian was at his zenith; the most exciting footballer since Best and playing at a level that arguably surpassed Pelé. His failure at Barcelona in the early 1980s seemed inconsequential when he could galvanise mediocre club and national sides so drastically.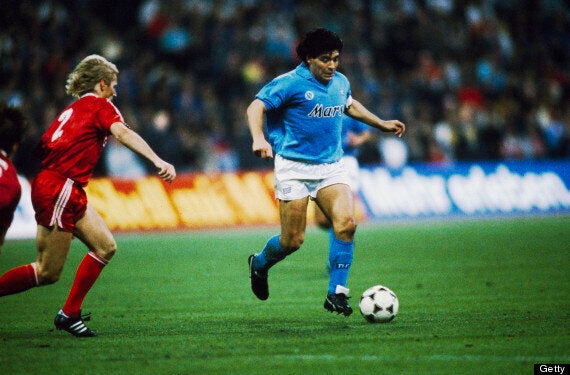 Maradona orchestrates the Napoli attack in Munich back in 1989
Napoli arrived in Bavaria for the second leg of their Uefa Cup semi-final with Bayern Munich two goals ahead from the first leg through Careca and Andrea Carnevale's strikes. It was far from an unassailable lead against Jupp Heynckes' Bayern team, but nobody told Maradona.
Stocky, wearing his unlaced Pumas and a baggy Napoli tracksuit top with "Mars" appropriately emblazoned across the back, Maradona resembled a Sunday morning coach after a heavy night out. Then he received the ball.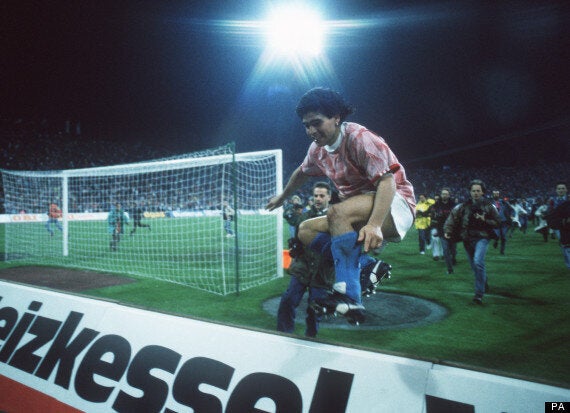 "Got to rush, there are free Mars bars over there."
At Wembley, two years earlier, Maradona arrived for the Football League XI versus Rest of the World XI exhibition match by helicopter. He had applied the Hand of God the previous year, and an England supporter threw a can at him. Clad in a suit, he flicked the can up and played keepy-uppy. Whatever the object and whatever the size, people saw things you wouldn't believe when Maradona was around.
In Munich, he warmed up to "Live Is Life" as it blared out of the loudspeakers. Almost certainly coked up (Maradona allegedly began using cocaine in Barcelona in 1983), he performs the most mesmeric keepy-uppy exhibition on film, clapping, singing, swerving and jigging along to the Austrian pop rock group's signature song.
"Live Is Life" was released in 1985 and topped the European charts before reaching the top 40 in the US a year later, but its status as a Europop guilty pleasure is almost entirely down to Maradona's immortal warm-up.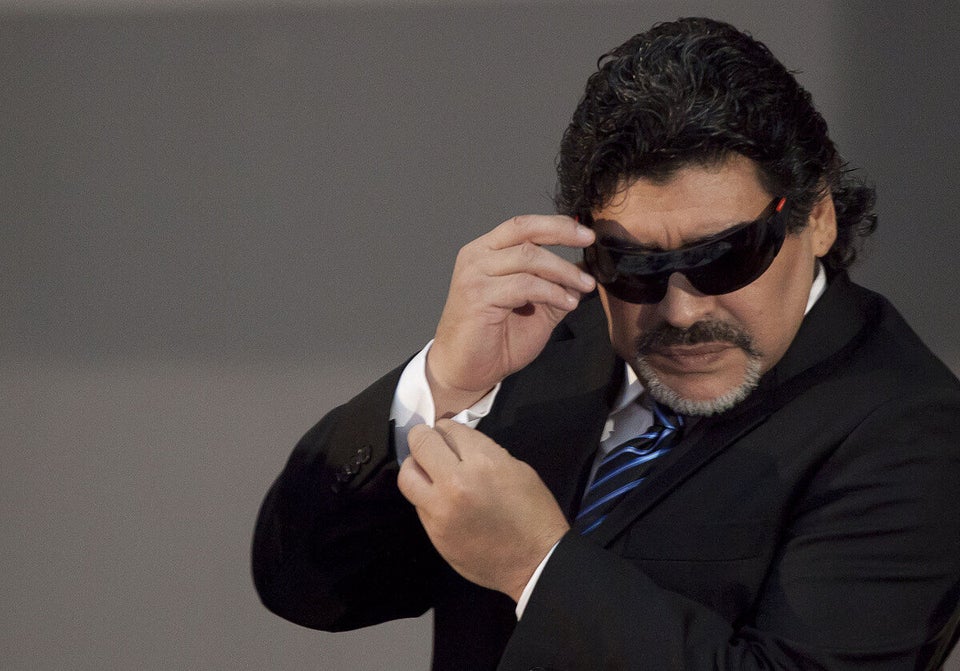 Maradona in Naples