If 'Longmire' fans can't get enough of their TV hero, the enduringly solitary Sheriff Walt Longmire of the title, and the untrammelled forests and plains among the Wyoming landscapes that constitute his beat, it seems his creator is equally enamoured by his own ventures far afield, in today's case, a sunny London.
"I'm enjoying all the resources," says author Craig Johnson with a huge smile. "My town only has 25 people in it, so you can imagine this is all pretty overwhelming. My biggest decision is what theatre to go and see. It's all very novel."
Holiday aside, however, it's clear that Craig's home of Ucross, Wyoming, remains his natural territory, and it is this familiarity with both the landscape and the crucial role of Sheriff within it that is the backbone to the success of 'Longmire', in Craig's ten novels of the series, and now also the hit TV adaptation.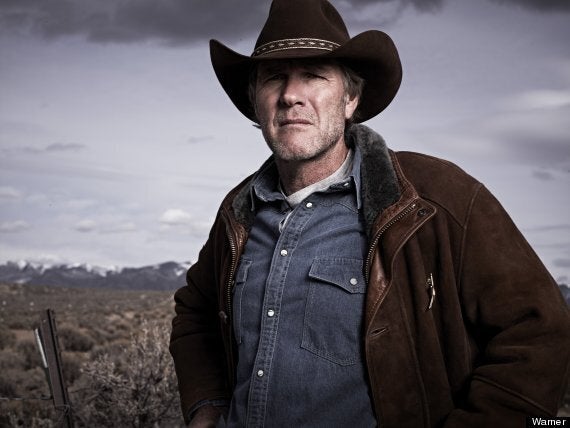 Robert Taylor stars as solitary Sheriff Walt Longmire in the hit US series, currently showing on TCM in the UK
"I don't want him on a cruise ship, or jetting around on a skateboard," explains the author. "I want to paint a realistic portrayal. There has to be a certain amount of honesty involved, even if it's a little dramatically heightened, just so we can give him something to do each week.
"But all the stories in the series come from newspapers I've read in Wyoming and Montana. You become like a horse handicapper – you read something in the paper, and you think, 'well, there's 400 pages in that one.'"
Craig has become both horse handicapper and a literary Doctor Frankenstein, apparently. He explains, "Walt is based on elements of about half a dozen people. Each time I come up with characters, I stitch pieces of different people together to tell the story. Everyone's based on family, friends and neighbours.
"Anyone talking to me for more than 20 minutes is taking their literary legacy in their hands.
"It's a small town, though, so people soon figure out who they are, but no one's complained yet. When I've given people the choice of changing their name, they always seem to want to stay in."
No surprise, really, with the popularity of the books giving these characters their place in history, along with Walt himself, whom Craig decided very early on wasn't going to be perfect…
"All characters in crime fiction are always 6'2" and made of twisted steel," he complains. "It's a little tiresome.
"I wanted Walt to be realistic. He's overweight, he's over-depressed, and one of the defining elements of his life is that he lost his wife, and it's not something he's ever going to get over. To me, that's what makes a character, not perfect but interesting."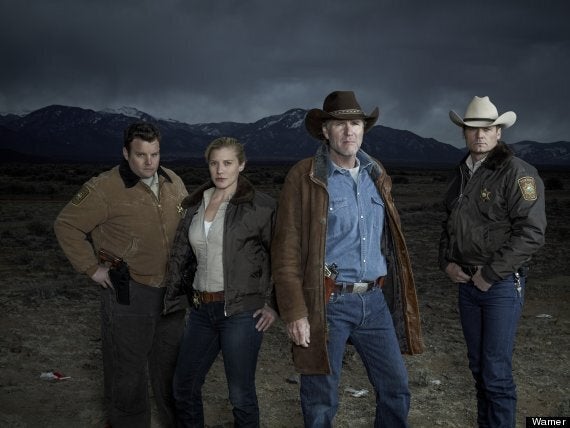 Sheriff Longmire is aided, and sometimes hindered, by his fellow law enforcers in rural Absaroka County
As well as his personal status, Walt's role of sheriff – the only elected law enforcement official in the United States – is a job of endless fascination to both Craig and, clearly, his creation's many fans.
"The sheriff isn't just a policeman, but also a politician," he explains. "He's connected to society, culture, the people who elected you. You have to be likeable to get elected, but you also have to be responsible, because there are so many opportunities for nepotism, corruption, the edge of vice, so it becomes an extremely complex job.
"Add to that these rural areas, in a place like Wyoming where some counties are as big as other states, where resources are stretched sheet thin, and where neighbours are extremely dependent on one another for survival, and suddenly it's a long way from some dude in chrome sunglasses, asking, 'Who you looking at?'"
It's clear Craig's fascination with the subject matter is in no danger of drying up, in fact, he reveals he has another half a dozen novels already planned out, even if Longmire's debut appearance was initially intended to be only a stand-alone book.
"If anyone had told me, years later, people would be so hungry for more of Walt's adventures, I would have laughed," he says. "I'm not reinventing the wheel, but I'm trying to make each one different even now."
No temptation to send Walt into the world of modern technology and forensics, then? Craig shakes his head…
"Absaroka County is the least populated county in the least populated state in the US," he explains. "That forces me to concentrate on character and place, and both have always been infinitely more interesting to me."
Finally, is Walt's creator also Walt's admirer and, if so, what does he like about him? Craig Johnson pauses for thought, and gives a suitably horizon-scanning response for his solitary, gruff but compassionate hero…
"He's taught me patience," he finishes. "When I first created him, I was in my early forties and not very patient about anything. There's a process to what he does, and he takes his time.
"Now, particularly in a modern world, that's a very powerful weapon."
'Longmire' Seasons 1 and 2 are available on Blu-Ray and DVD. Season 2 is currently being shown in the UK on TCM, every Sunday at 9pm. Season 3 will be debuting later this year, as will Craig Johnson's 11th novel in the series. Watch the very first trailer below...