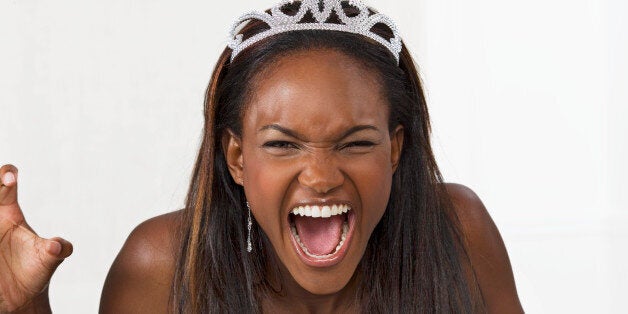 The Miss Scarborough beauty contest descended into chaos when claims of a fix prompted violence that saw security guards attacked with handbags and pensioners knocked to the floor.
Police were called after horrified young contestants wept as glasses flew through the air.
According to the Scarborough News, security stepped in when supporters of one contestant were asked to stop booing.
There were chants of "fix" from a section of the audience at the Flower of May holiday park in Lebberston, according to the Yorkshire Post.
Organiser of the pageant Diane Yalezo declined to comment about the trouble on Saturday night.
But earlier she said she had picked One Moment In Time as the walk-on music for the winner, 18-year-old Jess Gale.
Ms Yalezo told the Yorkshire Post: "Jess should have been able to walk on to that stage and have that one moment but it was totally ruined by that one family."
The Miss Scarborough winner will go on to the Miss England finals in Torquay on June 16.
Money was raised on the night for Martin House Children's Hospice.
A North Yorkshire Police spokesman said: "Police were called at around 11.45pm on Saturday April 12 to the Flower of May holiday park, Lebberston, following reports of a disturbance.
"When officers arrived at around 11.50pm, the situation had calmed down.
"Police have not received any complaints and no one has been arrested in connection with the incident."
Popular in the Community