A mother-of-three says her family holiday to Disneyland was ruined after a park employee told her to cover up her cleavage.
Melissa Behnken was at the gates of Disney's California Adventure Park when she says she was approached by an elderly male worker.
She told 10News.com: "This gentleman out of nowhere comes up to me and just says 'You need to pull your top up.'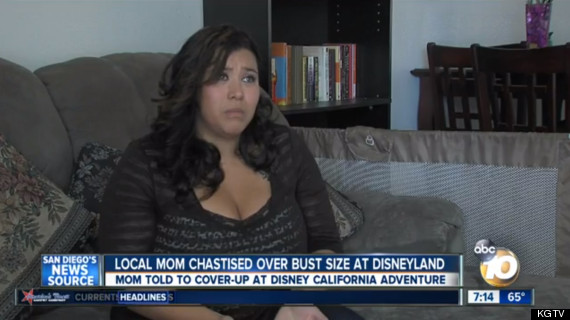 Melissa Behnken was asked to cover up at the gates of Disney's California Adventure Park
"I was looking at him like, 'Excuse me? Are you serious?' He replied: 'This is a family park. You are showing too much',"
Behnken, who was celebrating her husband's return from the US Marine Corps added: "I guess women with large chests are expected to wear turtlenecks their whole lives.
"This was our first family vacation and for me, it was ruined."
Pictures of Behnken at the park show her wearing a leopard print vest underneath a black lace top.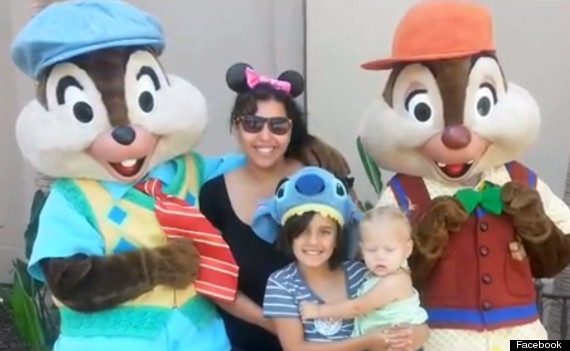 Behnken says the day out was 'ruined' for her
Disneyland's online FAQ section does mention a dress code, specifying: "Attire that is not appropriate for the theme parks (and which may result in refusal of admittance) includes but is not limited to: Clothing which, by nature, exposes excessive portions of the skin that may be viewed as inappropriate for a family environment."
According to Metro US, Behnken complained about the incident and has since received a formal apology by telephone.
In a statement to the Huffington Post UK, Disney said: "As soon as we were made aware of the incident, we reached out to Mrs Behnken to address her concerns and apologise.
"We also took appropriate action with the involved cast member," said Suzi Brown, director of Media Relations for the Disneyland Resort.