A law student from Leeds has managed to fund her whole law degree at a London university, as well as her luxurious lifestyle, by stripping.
Vanessa Knowles has paid her two-year £14,000 law degree in full, without resorting to a loan, and lives in a central London apartment, according to The Mirror.
The 25-year-old expects to obtain a first class degree for her LLB, which ends in September, and wishes to pursue a career in Intellectual Property law at a prestigious firm.
Going for a drink in the sunshine with my classmates! xx see you all later x pic.twitter.com/pQza2uFnkL

— Vanessa Knowles (@reeses_piecesx) April 16, 2014
Alongside her studies, Knowles has a part-time job: she strips for men on the web for 12 hours every week. She has around 22,000 fans who, she says, are very supportive of her of her studies and have even bought Knowles £2,000 worth of law books.
"I've become an internet personality and my fans get upset if I don't reply to their messages straight away," she says.
Knowles has already completed work experience in the City and insists her part-time job will not affect her law career.
Launching my website soon.. Huge competition coming up to celebrate!! xx pic.twitter.com/wHDJ1gyuoO

— Vanessa Knowles (@reeses_piecesx) April 14, 2014
Her fans also buy her presents from her Amazon wish list that includes champagne and lingerie as well as designer clothing for her placements. Knowles earns on average £50,000 a year from stripping,the Mail Online reports.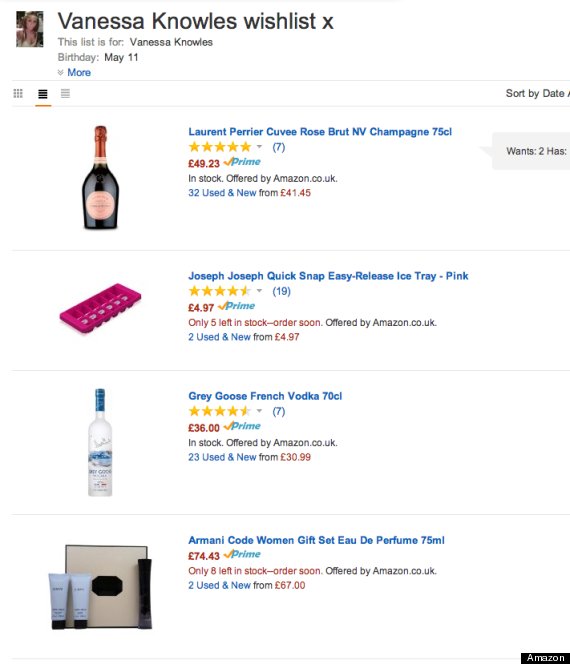 Vanessa's wish list.
Knowles, who is single, started stripping at 18 after leaving school with 11 GCSEs. She said she did not wish to go to university straight after school but had always wanted to be a lawyer. Knowles first turned to stripping when a friend of hers who worked for a lap-dancing chain organised a photo shot for a Men's magazine for her.
She then moved to London in 2012 to pursue a law degree but plans to give up stripping once she is a full time lawyer.
Despite the possibility law firm seniors may have seen her on the internet and some of her fellow students have given her grievance for her career choice, she says she is not bothered and it will not have an impact on her legal career. Since her unusual way of funding her studies has hit the headlines, she's also had support from far and wide:
@reeses_piecesx good on you for doing what youre doing, at least youre not living off mummy and daddy for your time at uni

— Tom Mellor (@tom_mellor1991) April 17, 2014
Knowles says: "My lap-dancing and webcam work were already teaching me transferable legal skill. I was already playing hard ball and negotiating fees with customers, and some guys were saying they felt intimidated by intelligence", according to News.com.au.
Knowles' story comes out a little more than a month after Belle Knox, a student at Duke University, was outed as an adult film star. The young woman decided to turn to a career in the porn industry in order to pay for her studies.