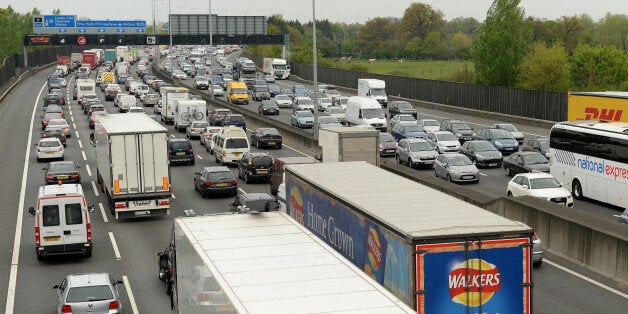 Easter travellers can expect a fine start to the long weekend, with those who have booked breaks in Britain taking to the roads in their millions.
An estimated 3.4 million people are taking a holiday in Britain, with the dry and warm weather set to give way to cooler, cloudier and rainier conditions as the weekend goes on.
Passengers endured a nightmare start to their holiday after two separate incidents led to more than a dozen train cancellations yesterday.
Eurotunnel said the problems have been resolved but there is expected to be a backlog today as passengers try to find spaces on other services.
A broken-down train and a technical fault affected those taking Channel Tunnel shuttle trains on the Folkestone-Calais route and high-speed Eurostar services between London and Paris and Brussels.
A fatality near Lille also delayed Eurostar trains earlier in the day.
Among the luckiest of those heading abroad for the holiday are travellers flying to the United States where the dollar is at its weakest against the pound in five years.
They are among about 1.6 million having an overseas break this Easter, with Spain, its islands, Turkey and Tunisia among the most popular destinations.
Top city break destinations are Paris, Dublin, Amsterdam, Rome and New York.
Those staying at home will have to put up with crowded roads, with traffic information company Trafficmaster reckoning that as many as 16 million cars will be in use over the weekend.
As well as those having trips involving at least an overnight stay, an estimated 6.5 million Britons are likely to take day trips over the holiday.
Engineering work on the railways is affecting Easter services to and from a number of major hubs, including London's Charing Cross, London Bridge, Paddington and King's Cross stations.
Southampton Central and Sheffield are among other major stations where services will be affected over the weekend.
Rail industry body the Railway Delivery Group said work was planned carefully to ensure the vast majority of passengers are not disrupted.
The group added that this Easter would see 20% fewer bus replacement services needed than last Easter.
Popular in the Community